Great Chefs, Great Homes
Winter Edition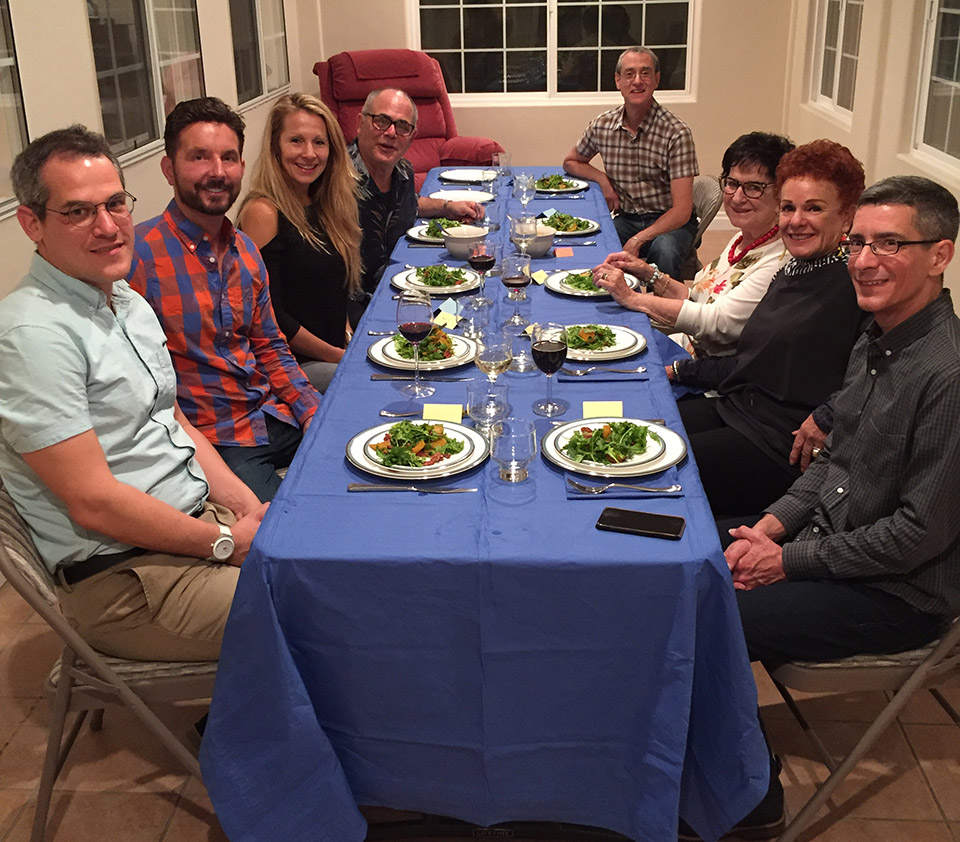 Guests enjoying dinner at the Great Chefs vegan dinner on October 28 (Photo: Mark Miller)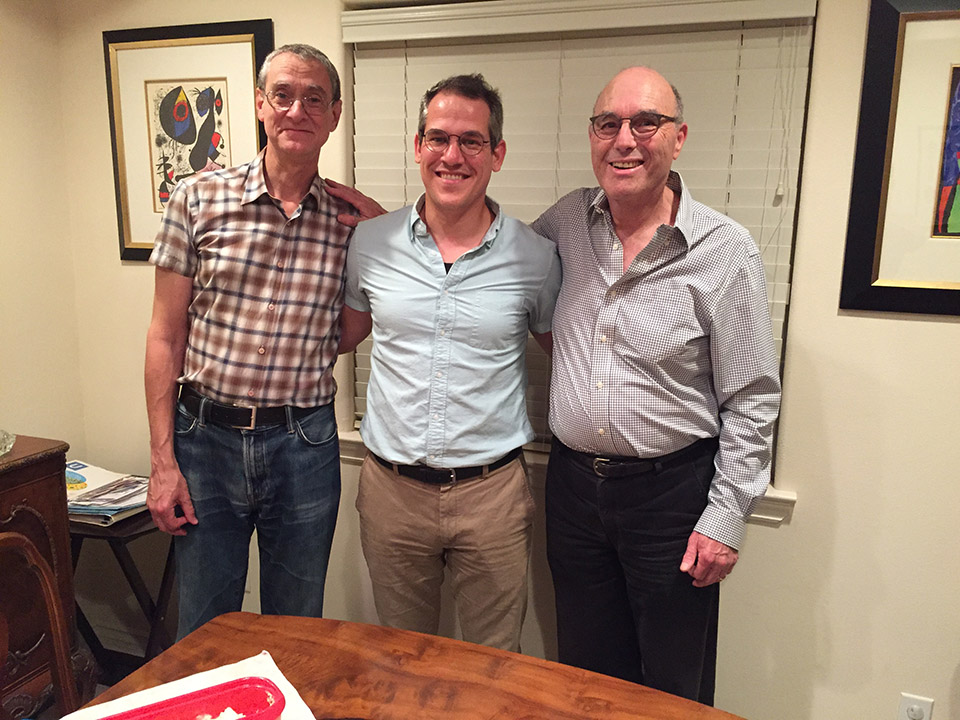 Hosts Brett Trueman, Cantor Juval Porat, and Mark Miller at the Great Chefs vegan dinner on October 28 (Photo: Mark Miller)
Great Chefs, Great Homes is an opportunity for BCC members to get to know each other in a social environment as well as giving congregants an opportunity to help raise money for our synagogue. BCC members open their homes to other members for an evening (or day) of fun and great food.  The hosts prepare or provide the food, and all proceeds from their guests go to BCC. This has been an event that BCC has done many times and it is always wonderful, a chance to get together with others in a relaxed setting and help BCC at the same time.
Some Great Chefs events have already taken place, and there will be more in the Spring and Summer of 2018. Please contact Ginger Jacobs, Cantor Juval, or Hannah Theile for available dates and if you are interested in hosting a lunch or dinner. The available events for the remainder of this year are as follows.
November 12, 2017
Jeffrey's Kitchen
Meet your next favorite cook and host Jeffrey Janis in West Hollywood, as he prepares his palate-electrifying food for you and friends! Let us know about your food needs and we'll do our best to accommodate you! Sign up here.
December 3, 2017
Glen's BBQ
Enjoy some delicious BBQ on Glen Chester's patio in the outpost of Granada Hills. Open to friends and families. Let us know about your food needs and we'll do our best to accommodate you! Sign up here.
December 17, 2017
Hanukkah Brunch and Gift Exchange
Bring a friend and a white elephant gift for a fun brunch around the menorah in West Hollywood with Cantor Juval and friends! Sign up here.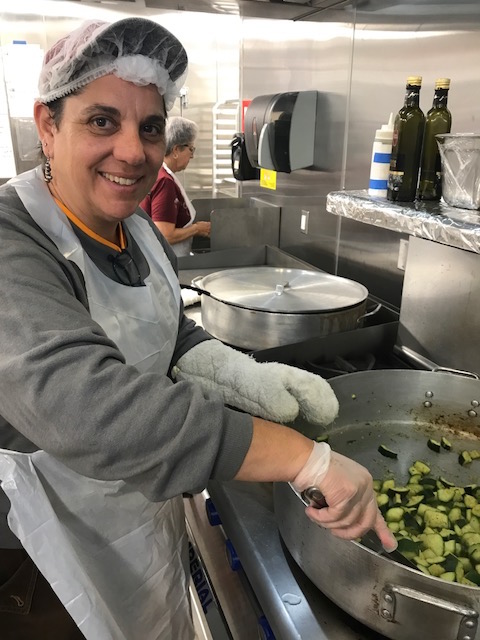 Sylvia Weisenberg Invites you to
Project Chicken Soup
BCC has been involved for many years with Project Chicken Soup (PCS), making nutritious and delicious kosher meals for people living with HIV/AIDS and other illnesses. PCS needs 10 people from BCC each time they cook, generally twice a month. Many years ago, I volunteered in the kitchen a dozen times and enjoyed each visit. All the years I didn't go, I figured that a group of BCC folks went twice a month. However, when I went at the end of September – trying to get a jump start on doing good in the new year – only one other BCC volunteer was there. I learned that most weeks very few or no BCC'ers attend.
I really felt good helping chop, slice and dice veggies for soup, frittata and to serve alongside brown rice. It was fun and important to do, so I committed to them that I'd help get 10 people there on both November 5 and December 3.
It is an early start time for cooking yet with no traffic quite an easy drive. Arrive by 7:45 am to chop, slice, mix and stir (no previous kitchen skills needed) and we are done before noon. The address is 11134 Sepulveda Blvd., Mission Hills 91345. Free street parking and of course free hats, gloves and aprons! Please join me to volunteer one of these dates and consider signing up throughout the year. It is such a mitzvah! There are also delivery driving opportunities beginning at noon.
For questions and to RSVP for Nov 5 and/or Dec 3 contact Sylvia. For other dates please contact PCS directly at projectchickensoup.org.
BCC Co-Sponsors "Nazism in the U.S:
Learning from the Past and Facing the Present"
BCC and Sholem will co-sponsor this talk as part of Sholem's Fall "Politics and Culture" lecture series in Los Angeles. BCC Board Member Dr. Beth Ribet will share some commentary on Nazism in the U.S. during and since the 1940s, its relationship to U.S. white supremacy movements, and its implications in the contemporary moment.
This talk will take place on Sunday, November 19, 10:30 am to 12:30 pm at Westside Neighborhood School Campus, 5401 Beethoven St.  LA, CA  90066 (Parking and entrance at rear of building, from Coral Tree Place).
Sholem is a multi-generational Jewish community that offers a meaningful alternative for unaffiliated progressive Jews and intercultural families.  
Photos from Simchat Torah
Our annual celebration of Simchat Torah, the conclusion of the High Holiday season, took place Friday evening, October 13. The evening began with children's activities, and the sanctuary was cleared of chairs so we could dance with our Torah scrolls after our reading of the end of Deuteronomy followed immediately by the beginning of Genesis. Our stalwart readers Helen Brand and Dave Parkhurst once again amazed us with their ability to chant whole sections of our beloved Torah. Below are some photos taken by Aviyah Farkas of our readers in action!
The evening continued with a brief Shabbat service and Yizkor service, and concluded with a festive oneg sponsored by Maggie and Dave Parkhurst.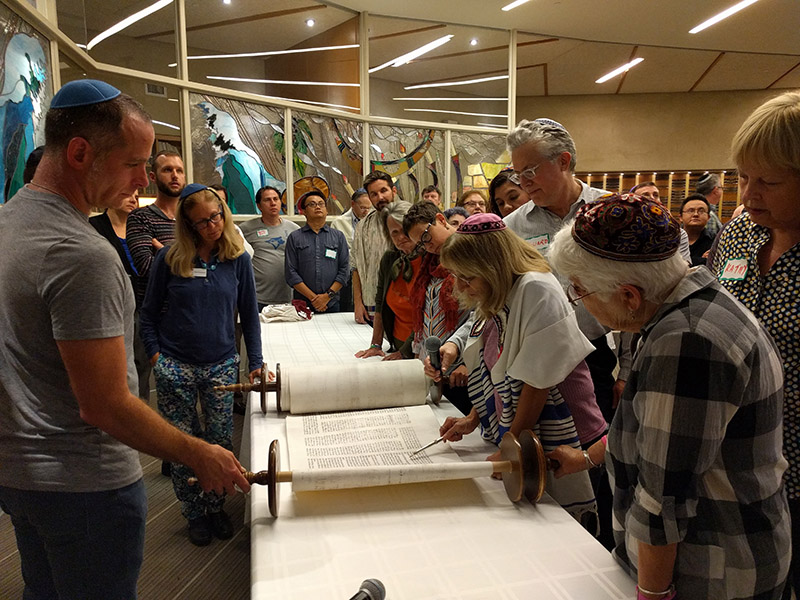 (Photo by Aviyah Farkas)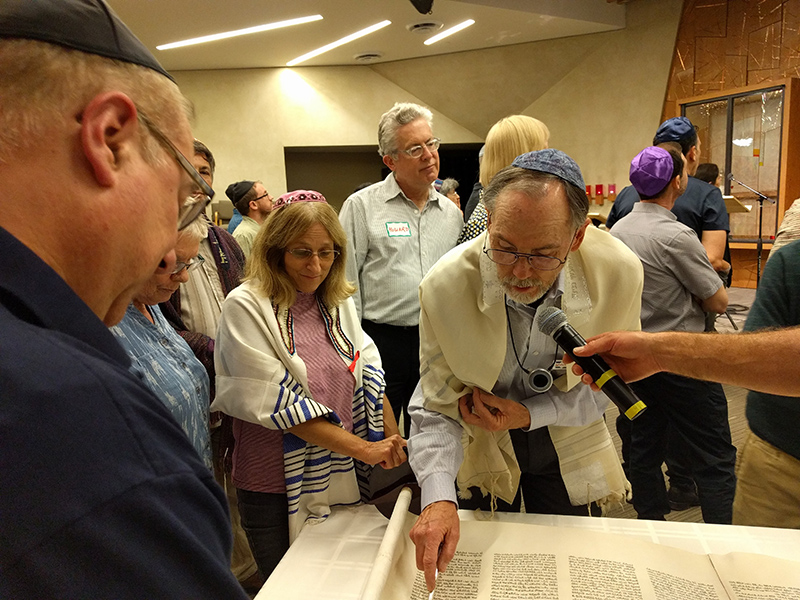 (Photo by Aviyah Farkas)
BCC Goes "Outside the Box" with
Liz Rothschild's One-woman Show
On Sunday evening, October 29, Rabbi Lisa Edwards and Tracy Moore brought to BCC a groundbreaking, funny and moving one-woman show about death and burial. They loved it so much at the Brighton Fringe Festival in England that they just had to share it with BCC. The performance was attended by 65 people and raised $1500. It was followed by an hour of Q&A and lively discussion that included BCC Cantorial Emerita Fran Chalin, now a hospice chaplain.
The author and performer, Liz Rothschild, is a celebrant and award- winning burial ground owner in Britain. Her unique insights and experiences have created an original and beautifully cathartic show, combining mercurial tales and miraculous truths, collected over the years from life's finishing line. It addresses its subject with grace and humor, asking its audience to embrace mortality and look on the bright side of life, with a weave of untold and surprising stories, a hint of history, and some pithy commentary on the funeral industry.
Among the memorable quotes by characters Liz spoke for in her show were these:
—Mortality is not curable
—My fish got old age and died
—When does dying become living? When does living become dying?
—To talk about death together, we need scrupulous, open hearted honestly.
Here are a couple of photos from the evening, taken by Tracy Moore.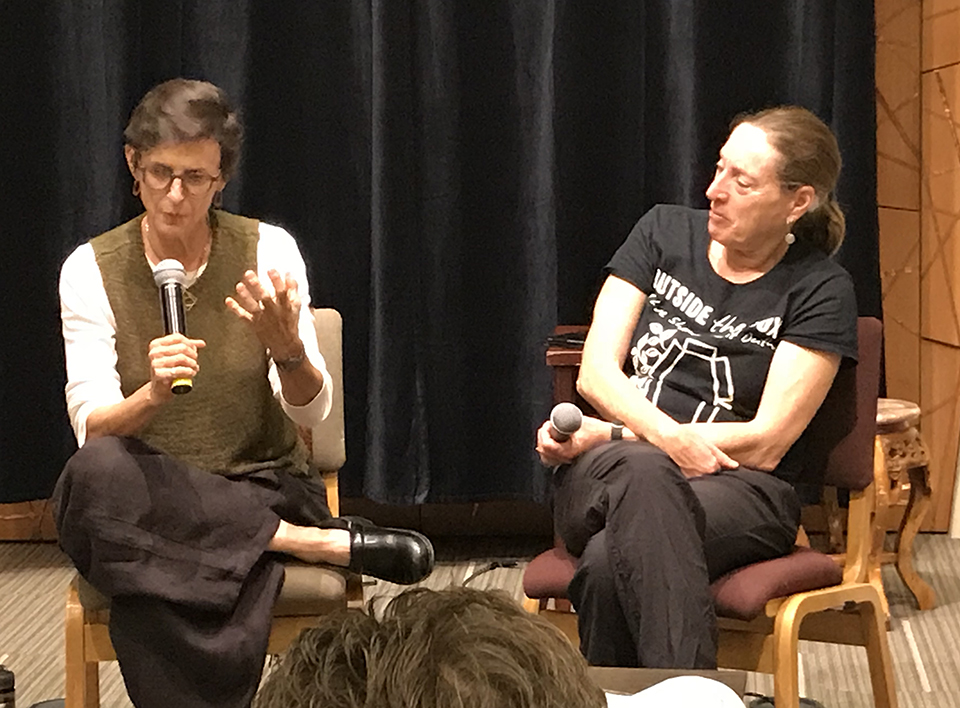 Fran Chalin and Liz Rothschild during the Q&A session.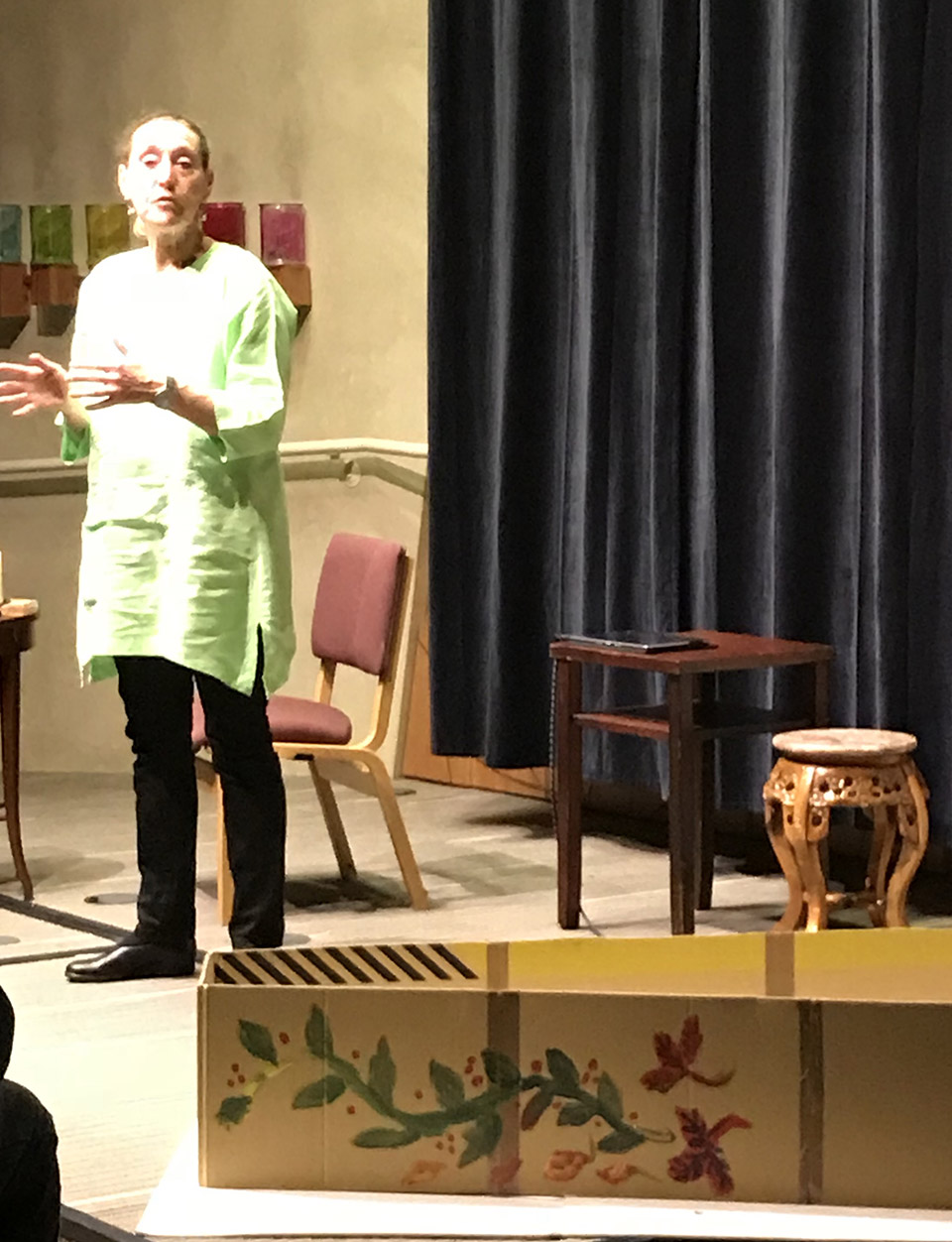 Category: Special Programs Tag: Read Gvanim November/December 2017 Leave a comment