Richard Lesse, President
As you may have noticed from various announcements over the past months, BCC is in a period of transition that will include several important changes. Executive Director Ruth Geffner Irving left in December. Elissa Barrett is serving as Interim Executive Director while we conduct a search to fill that position long-term. Rabbi Heather Miller will be leaving us in June, which means we not only need to fill her rabbinic duties, but we also need to find a new Director of Education for Ohr Chayim. And yes, after 25 years with BCC, Rabbi Lisa Edwards is planning to retire July 31, 2019.
All of this change, and managing these transitions, will require a lot of work for all of us — the Executive Committee, Board of Directors, clergy, staff, and membership. While this is a lot to handle all at once, I choose to look at this time as an opportunity to reflect on who we are as a community and where we want to be, not just in the next couple of years, but also 10 or 20 years down the road. Then we can search for clergy and staff who can help us get there. The last time we took a good look at what we wanted for BCC's future, it resulted in our beautiful new home at 6090 W Pico. It's well past time for us to take another look into, and plan for, the future of our community.
I think this is an exciting chance for us to explore all the options and opportunities in front of us. The Board of Directors has formed several committees to work on all of this.
The Director of Education Search Committee is being chaired by Everlyn Hunter and a yet to be named co-chair. Our goal is to have a new Director of Education in place before the end of this Ohr Chayim year (early June) for a smooth hand-off from Rabbi Heather.
The Executive Director Search Committee is being chaired by Laurie Newman and a yet to be named co-chair. A new Executive Director will likely be in place sometime between mid-June (after the awards brunch) and late September (after High Holidays), at a date that will be mutually agreed to with Elissa.
Now let's talk about our rabbinic needs. As you likely know, Rabbi Lisa has been gradually reducing her hours the last few years as she heads towards retirement. Rabbi Heather has been working part-time, increasing her hours as Rabbi Lisa reduced hers.
The process to search for and hire a new full-time rabbi is established by the CCAR (Central Conference of American Rabbis) and it follows certain guidelines. We'll be forming a Rabbinic Search Committee later this spring or early summer and the actual search and interview process will begin in early fall. We, as a congregation, will likely make an offer to a prospective rabbi sometime in December or January, with a planned start date of July 1, 2019. Upon Rabbi Lisa's retirement we plan to enter into a new contract with her as our Rabbi Emerita, details of which will be worked out later.
In preparation for the rabbinic search, we've formed a task force to conduct what we're calling a "listening tour." This is a chance for every member of BCC to weigh in on how we see ourselves and what we see for our community over the next decade. The results of this listening tour will help guide us through our rabbinic search. We're in the process of planning a series of listening sessions that will be hosted in people's homes in neighborhoods throughout the LA area. Details of this process will be announced as we have them. Our intention is to have an open process with as much input from our membership as possible.
While we're in the process of searching for a new full-time rabbi to guide BCC forward, we need to fill the duties Rabbi Heather has been responsible for. Rabbi Lisa has graciously agreed to increase her hours, though she prefers not to go back to full-time. Rabbi Lisa and I, along with the Board of Directors and with input and guidance from both the CCAR and URJ (Union for Reform Judaism) are looking into various options for our short-term needs. We might hire a student rabbi or rabbinic intern, though they, along with their school commitments, may not fully meet our needs. We may find a rabbi who's interested in working part-time for one year. This could also be an opportunity to "try out" a rabbi who might want to apply for our full-time position when the search begins in the fall. Or it could be someone who's only interested in a part-time and short-term position. We simply don't know yet, but we are open to whatever solution works best for BCC.
Down the road we'll need to establish a Transition Committee, which will be an outgrowth of the Rabbinic Search Committee. We'll also need to plan farewells for both Rabbi Heather and Rabbi Lisa, as well as a welcome event for our new rabbi.
I will keep our community updated through the G'vanim and/or email as developments warrant. If you have any questions or concerns, or would like to serve on any of these committees or host a listening session, please contact me .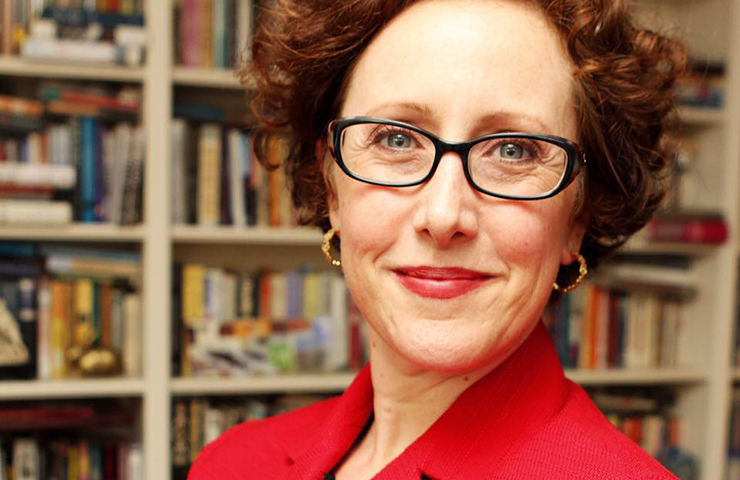 Embracing Service to Others As a Jewish Spiritual Value
Elissa Barrett, Interim Executive Director
Fifty years ago, in the February 27, 1978 issue of Time magazine, Mohammed Ali was quoted as saying, "service to others is the rent you pay for your room on this earth." Ali spent most of his life in service and used the platform of his public persona to agitate for civil rights, object to the Vietnam War, perform acts of charity, and raise consciousness about Parkinson's disease, which claimed his life in 2016. Ali was knocked down many times. But he got up, dusted himself off, and stepped back into the ring – ready to serve others and elevate the life of the spirit.
In Judaism and in Islam, Ali's chosen faith, "service to others" is a central part of living a spiritually rigorous life. So when the opportunity to serve as BCC's interim Executive Director came up, I jumped at the chance. My aim is to serve BCC by contributing my experience leading Jewish non-profits through times of transition and expansion, which will go a small way toward repaying the many gifts I have received.
Since I first walked through BCC's welcoming doors nearly 18 years ago, this House of New Life has become more than a spiritual home – it has become family. New to Los Angeles, I had been searching for a place where I could be fully present as a queer woman, a Jew, a lover of spiritual music, and an activist eager to give back to my adopted city. BCC has held me in its warm embrace ever since, and even introduced me to my spouse of nearly 15 years, Josh Gershick.
Fun Fact: Josh and I have been married twice by Rabbi Lisa Edwards: once in 2003 in Houston and once in 2008 in LA before the passage of Prop 8.
Over the years, I've tried to give back to BCC by singing in the choir, leading services, giving the High Holy Days pitch, volunteering in soup kitchens, bringing services to elderly LGBTQ Jews, protesting at countless rallies, becoming a Mitzvah Circle member, and raising funds when Josh and I received the Harriet Perl Tzedek Award at the 2014 BCC annual awards and fundraising event.
This year's event is one of my biggest priorities as interim Executive Director. I'm excited that we will be embracing a new name for the event – BCC's Vision Awards.
Vision is what set Moses apart as our people's greatest leader. He saw the world as it could be, not just as it was. Moses connected to a purpose and a being greater than himself. He used that spiritual awakening to serve others, liberate a people, pursue justice, and challenge the status quo.
Join us on June 3rd for BCC's 2018 Vision Awards. See the next post for more information about our incredible honorees and event details!