The Cantors Ensemble at the December 2, 2018 concert, left to right: Chayim Frenkel, David Reinwald, Juval Porat, Kerith Spencer-Shapiro, Rebekah Mirsky, Jennifer Bern-Vogel (photo by Kenna Love).  Scroll down for a review of the concert.
BCC Movie Nights and Popcorn Chats
Our series of free movie screenings that began in 2018 will continue into the new year. The screenings are free and open to BCC members and friends alike. A discussion will follow each film. Bring a snack to share.
Our next three screenings are as follows.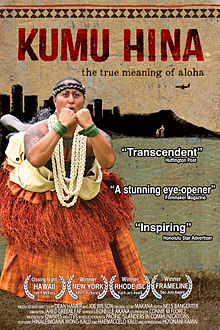 "Kumu Hina" on Saturday, January 26, 2019, 6:00 pm
Imagine a world where a little boy can grow up to be the woman of his dreams, and a young girl can rise to become a leader among men.  This inspiring documentary about a native Hawaiian mahu (transgender) woman who uses traditional culture to create a space where everyone is accepted.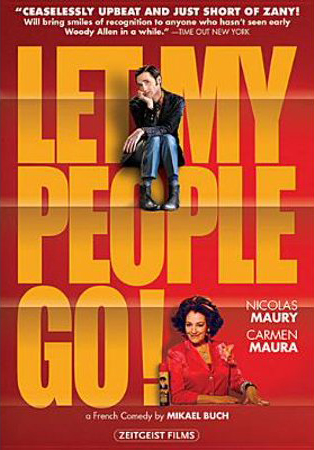 "Let My People Go" and "West Bank Story" on Sunday, April 7, 2019, 6:00 pm
A gay French Jewish mailman leaves behind fairytale Finland and a hunky Nordic boyfriend to spend a mixed up Passover in Paris with ditzy mom (Pedro Almodovar favorite Carmen Maura) and the rest of his screwball family.  The musical short, "West Bank Story," in which dueling falafel stands sets the scene for star-crossed lovers, Fatima and David, to harmonize across the Green Line, will precede the main film.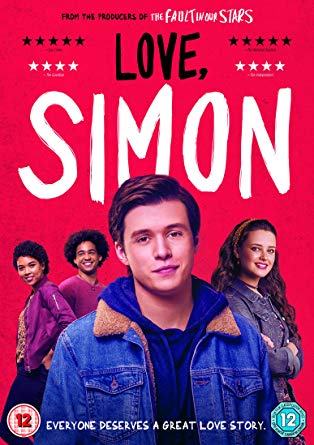 "Love, Simon" on Saturday, May 4, 2019, 6:00 pm
In this moving coming-of-age story, Simon is a closeted teen who falls for an anonymous online pen pal from his high school who is also gay.  When a blackmailer obtains his candid emails, Simon must reveal his sexuality to his family and friends.
A discussion will follow the screening of each film. Free admission and all-you-can-eat popcorn will be provided. Feel free to bring other snacks to share.
For more information, contact Jeff Cohen, Marc Breindel, or Bracha Yael.
Cantor Juval Porat Hosts Moving "Intimate Voices" Concert at BCC
 Larry Nathenson
On Saturday evening, December 8, 2018, Cantor Juval Porat hosted a cantors concert at BCC entitled "Intimate Voices: Music of Jewish Spirit." I think I can safely say that everyone in attendance was moved by this collection of inspiring voices, instrumental music and meaningful lyrics. A concert at this time of year has become an annual tradition since we dedicated our new building in 2011, but as always Juval has exceeded expectations. He once again demonstrated his ability to attract some of the most talented cantors and other musicians in Southern California, which is a tribute to his colleagues' respect for him as well as for our congregation and our beautiful sanctuary.
In addition to our own Cantor Juval Porat, the cantors who graced our bimah this year were Jennifer Bern-Vogel of Emanu El in Redlands, Chayim Frenkel of Kehillat Israel in Pacific Palisades, Rebekah Mirsky of Santa Monica Synagogue, David Reinwald of Temple Beth Sholom in Santa Ana, and Kerith Spencer-Shapiro of University Synagogue in Brentwood. We also heard some of the beautiful melodies created by the JAC Trio – global strings for the new millennium – composed of Janice Mautner Markham on violin, Amira Bennett on viola, and Circe Diaz Gamero on cello. Janice is a frequent participant in our Ruach Chayim services, but this was the first time the trio performed at BCC. BCC member Todd Moellenberg also expertly accompanied the cantors during this concert.
This concert might also have been subtitled "songs of the season," as most of the pieces evoked themes of Hanukkah, winter, light and darkness. Cantor Bern-Vogel sang "December Snow" from the December Songs cycle, and Cantor Reinwald offered a musical "December Prayer" by Idina Menzel and others. Cantor Spencer-Shapiro sang "Keren Or" (ray of light), an Israeli composition evoking a small white candle piercing the darkness. The entire cantors ensemble concluded the concert with "Light is Returning/Banu Choshech," an arrangement of seasonal melodies.
Pieces that specifically referenced the holiday of Hanukkah included "Hanerot Hallalu" (praise for the candles), "Mi Zeh Y'maleil" (a traditional Sephardic melody for a familiar Hanukkah song), and a contemporary arrangement of "Al Hanissim" (for the miracles) written for this evening and performed by Cantors Mirsky and Porat.
Prayer was another theme of this concert, which included a number of pieces taken from the traditional liturgy. Cantor Porat offered Max Janowski's melody for the evening Hashkivenu prayer, Cantor Frenkel sang a beautiful interpretation of "Ken Y'hi Ratzon" written for bar and bat mitzvah services at his congregation, and Cantors Frenkel and Spencer-Shapiro offered a medley from the liturgy entitled "Let This be our Prayer." The cantors ensemble offered a rendition of "Magen Avot," the summary of the Amidah prayer for Shabbat evenings. In memory of the Jewish souls lost in the recent tragedy in Pittsburgh, Cantors Porat and Reinwald offered a "Jewgrass" piece (mixing bluegrass with Jewish liturgy) entitled "Tree of Life," the name of the Pittsburgh synagogue where the tragic event occurred.
The JAC trio also offered some instrumental pieces, including "Lebedik un Freylekh" (an Eastern European klezmer tune), and "Jewish Song," an arrangement by the early 20th century composer Ernst Bloch melding traditional Jewish music with classical forms.
Before the concert and during intermission, attendees could purchase food and drinks as well as tickets for a raffle. The prizes were a Hebrew calligraphy "hamsa" (hand) created by BCC Director of Education Rae Antonoff and a menorah in the shape of a fire truck.
Thanks are due to all who helped to make this event possible, including BCC's clergy, staff, and Board of Directors, event co-chairs Ray Eelsing, Tracy Moore, and Jim Potter, food providers Anita Keilin, Brett Trueman (delicious vegan brownies), and Leigh Grode and Joan Spitler (scrumptious chocolate strawberries), volunteers James Sutherland, Lee Alhadeff, Marc Breindel, Jeff Cohen, Lina Freeman, William Garbutt, Margie Rothman, Fae & Kit Shakara, and Elise Zimmerman. Along with the cantors and musicians, they all helped to make this a memorable and meaningful evening for all who attended.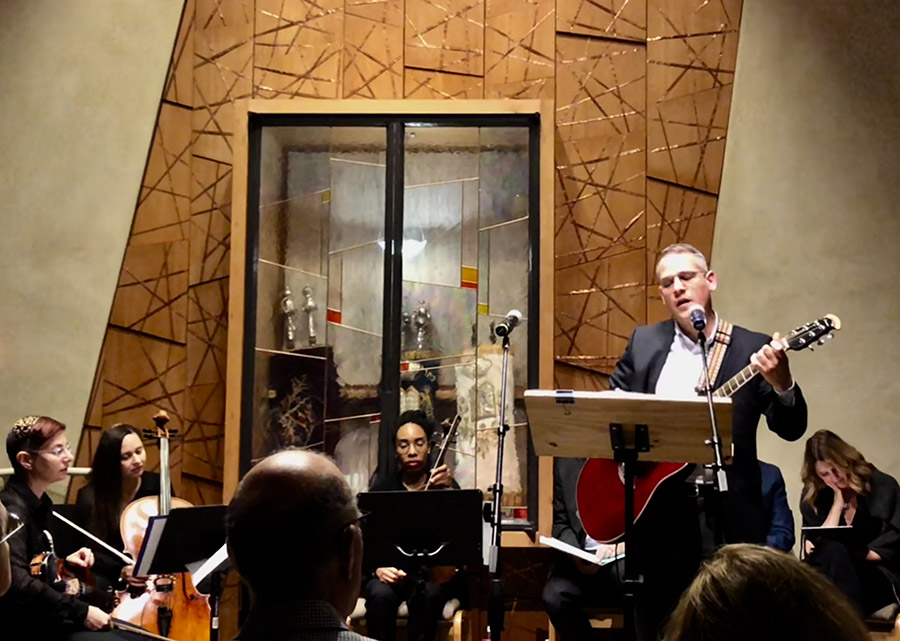 Cantor Juval Porat and the JAC trio (photo by Kenna Love)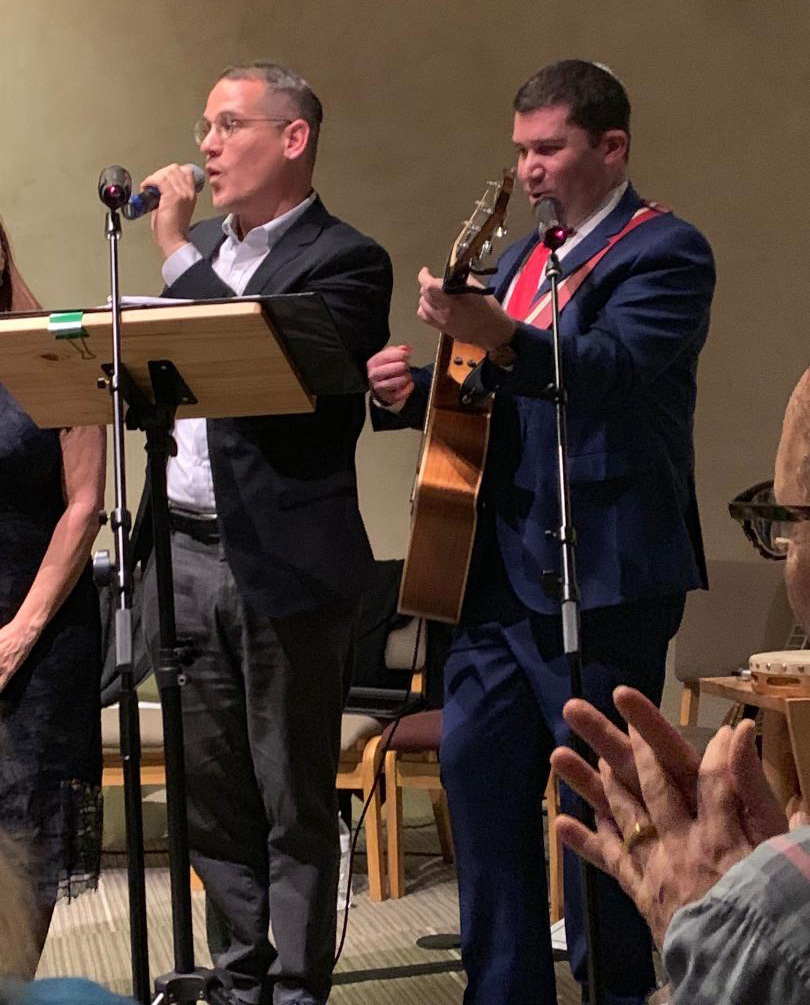 Cantors Juval Porat and David Reinwald perform "Tree of Life" (photo by Jay Jacobs)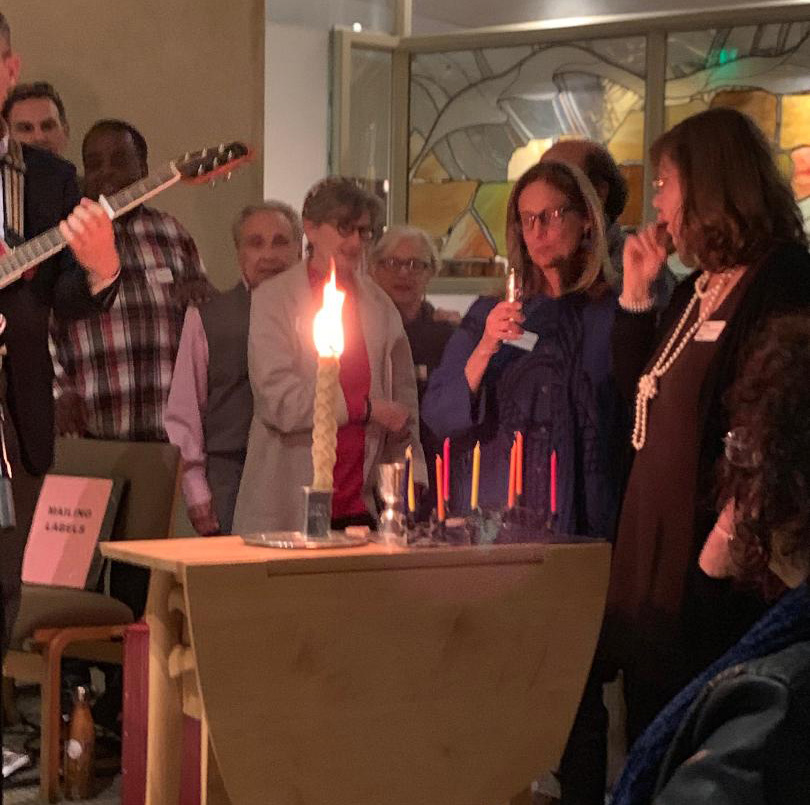 Rabbi Lisa Edwards leads Havdalah and Hanukkah candle lighting before the concert (photo by Jay Jacobs)
Gordon Blitz Reviews Theatre Dybbuk at BCC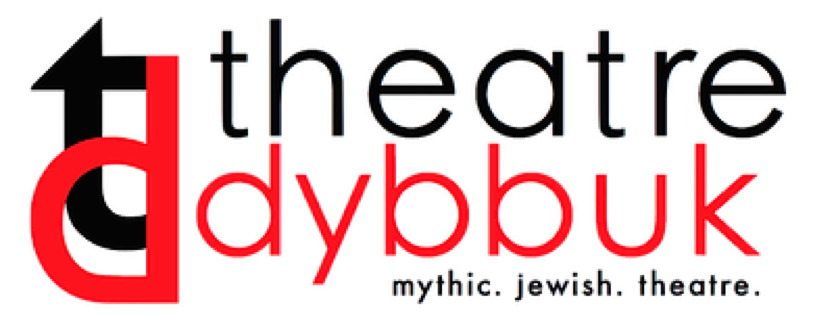 On Sunday evening, December 2, 2018, BCC hosted a participatory theater performance by Theatre Dybbuk, a Jewish community organization. Here is BCC member Gordon Blitz's review of this event.
This event at my temple was a transcendent experience. A devout spiritual encounter that created an unparalleled community attachment. The actors miraculously found the essence of our written stories. I was flushed with awe as I heard my words spoken.
From Theatre Dybbuk:
"We create a communal experience, centered around a theme, which brings together all who attend. At a One Community, Many Stories event, a Theatre Dybbuk facilitator takes participants through a 30-minute writing workshop in which they create personal essays and short stories. These stories focus on moments in their own lives which are connected to a given theme. Later in the evening, after 60 – 90 minutes during which refreshments are served or a related event takes place, professional actors read/perform a selection of these stories with live musical accompaniment." [In our case, the band WASI featuring BCC member Jessie Meehan]
Gordon's story:
"I was about to lead services and give my first sermon at BCC.  I had been provided with a cookbook of how to be a lay leader. I searched for new and unique ways to introduce prayers and songs. I don't know why I was so fearless. I had been going to Beth Chayim Chadashim for six years. My partner Scott had died in 1989 and I was looking for a husband. Since my father died shortly after my bar mitzvah in 1965, I never attended temple. I had no relationship to God. While Scott was dying of AIDS we never thought of praying. He was an agnostic Presbyterian.
When I entered BCC for the first time it was disorienting. Seeing men praying in Hebrew with their 501 jeans was shocking. The conservative temple we attended in the 1960's Long Island was quite different. At BCC Friday night services became an engaging routine. It was easy to digest and spirituality was started to awaken in me.
I loved studying and analyzing the way services were run. I was critical if things didn't run smoothly. If the drash didn't make sense or didn't make the Torah portion relevant.
When I began my sermon there was a bubbly sensation percolating within me. The feeling of the microphone vocalizing my words. As I looked around the room I could pierce into eyes. I wanted to grab their attention. I spoke about intimacy with God in various forms. I languished over words and relished a newfound voice within me. It was the first time I was empowered. I was floating in a different world space. I had a pure soul deep awareness. I had something important to divulge.
When I heard praises afterwards it was like a drug. This beautiful high took me out of myself. I wanted to wrap my emotions around this deep love. This priceless moment stuck to my ribs. That evening I couldn't sleep. The amazement was so rewarding it circulated in my head. Would I crash the next day? Could I ever do this again? I didn't believe it was me standing in front the entire congregation. For so long religion was deeply closeted. I didn't deserve this."
For more reviews by Gordon, go to Gordon's Culture Critiques
For more on Theatre Dybbuk:
https://www.mightycause.com/story/Fy2018-19
https://www.jewishfoundationla.org/grant/theatre-dybbuk
http://bcc-la.org/one-community-many-stories/