From the Study of Rabbi Lisa Edwards
I saw this message on a beautifully designed bus shelter sign.  The non-profit that placed the ad made no mention of its purpose, and its website is barely legible. The poster was just there as a gift to those who needed it (I assume mainly bus riders and drivers), though I noticed the bus shelter was right in front of an addiction rehab facility. I happened to see it while driving by in my car; I slowed, made a turn, and went around the block so I could take a photo.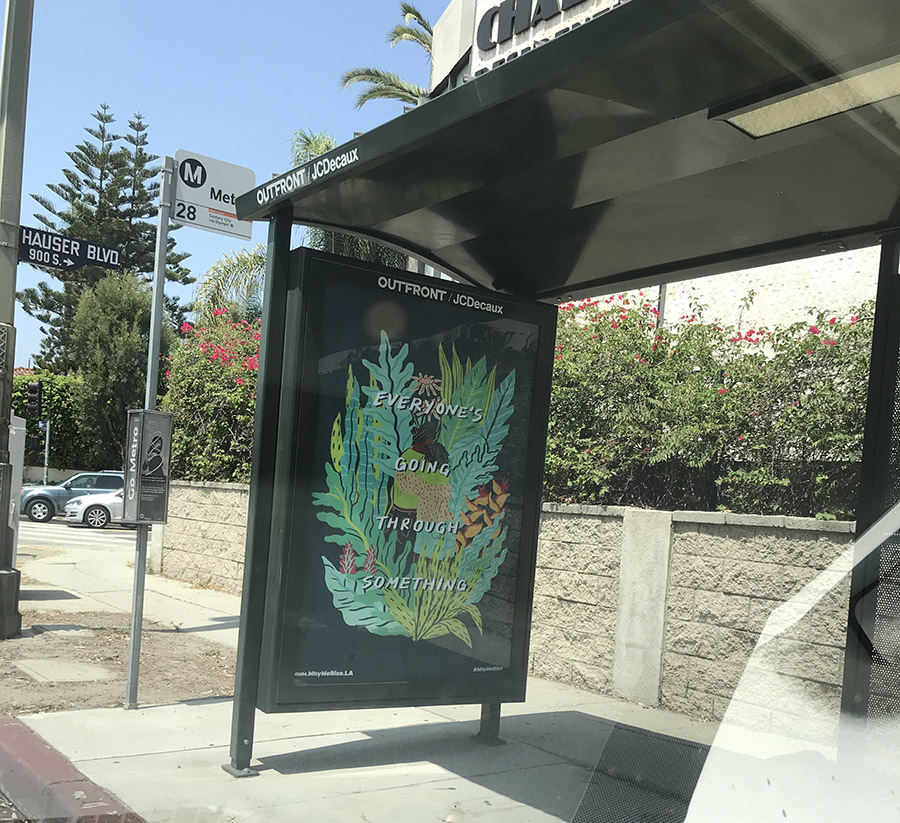 It came to me at just the right moment.  In this Jewish month of Elul, with its annual invitation for self-reflection and self-correction; in this era of puzzling animosity in our country; in this time of so many changes at BCC; in this city where the cost of housing and the number of people needing a home has gone dangerously askew; in this world where climate change and human cruelty are causing endless suffering…when isn't the right moment to be reminded that "everyone is going through something"?
When wouldn't it be a good time to keep this fact in mind? And when wouldn't it be a good time not only to wonder to yourself, "What is that person is going through?" but actually to ask them?
Well, okay, I agree it's not always possible to ask. But for myself I know I could ask more often than I do.
Anytime you're ready to lash out, or offer a harsh criticism, or a rude comment, what if instead you ask, "Hard day?" Instead of "What were you thinking?" perhaps an earnest, "Can you help me understand why you made this choice?"
Rather than, "Just fix it!" perhaps, "I can see you're frustrated. Me too, can we figure this out together?" Rather than frowning or pouting or slamming the door on your way out, perhaps a gentle smile or a look of sympathy.
Of course, the one person we can always ask is oneself: what am I going through? Right now. What am I going through in general or in this moment?
It's very nearly a new year — Rosh Hashanah comes to us (or do we come to it?) on Sunday evening, September 9.  Some of us (including me) look forward every year to our annual gathering at Temple Isaiah. This year I know I do so a bit wistfully – it will be my 25th and my last High Holy Days leading BCC (see letter from me and Cantor Juval reprinted below).  I will become BCC Rabbi Emerita just before the Days of Awe in 2019/5780. I'm honored by the support so many of you are offering me — your plans to go out of your way to be with us for the holy days (special shout out of appreciation to former BCC members Shari Katz and Noelle Hildebrand who are coming in from Montreal just to be with us for the occasion!).  It's been many years since I've set myself the task of offering four sermons over Rosh Hashanah and Yom Kippur. I'm nervous.
And then there's our annual task of tshuvah — of turning — turning to look behind at the year(s) just past to consider what we did well and for what and to whom we need to make amends; turning to one another to make those amends, to ask forgiveness and to forgive where possible; turning to the future, asking how can we help bring more goodness to the world?
It begins with self-awareness and empathy — no easy tasks, I know.  And it can grow from there — with appropriate nurturing, care, and attention.
Everyone is going through something.  Let's try to remember that as we journey into a new year, our last year together in this way.  May 5779 be a year of blessing, of change for the better, of sweetness, health, and wholeness for ourselves, for BCC, for the world.
***
Dear Friends,
Every year at BCC, our annual gathering for the Days of Awe provides us the opportunity to question ourselves as individuals and as a community, to take account of who we are now, how we got here, and where we want to go tomorrow.
This year, as your co-clergy, we are looking forward to a very special Days of Awe.
Together, we look ahead to the time one year from now when Lisa will become BCC's Rabbi Emerita. We feel the kavod (the weight and the honor) of this being our last opportunity to lead our community together on our yearly journey through the High Holy Days. And, we welcome you to be with us for that journey this year.
As the two of us sit down with our long checklists, inspiring prayer books, new ideas and music floating in the air, we often remind each other of our highest hopes for these High Holy Days. We pray that the music, words and atmosphere we offer enable all of us to open our hearts towards the repair, betterment, reflection, and healing called for at this season.
We look forward once again to the ways we can — together — reclaim, reinterpret, and come to understand anew each year the liturgy and traditions that speak to our lives and our world at this moment in time.
With our still new Reform mahzorim (prayer books) in hand, we invite you, as always, to engage with that process in whatever way is comfortable for you.
Behind the scenes as we write this letter, we are privileged to be in the company of many incredible people who make the Days of Awe happen at BCC — our BCC choir and musicians, our BCC staff and our BCC lay leaders and volunteers. We are so grateful to you all.
Thank you for the many blessings you have each bestowed upon us. We look forward to walking through these precious Days of Awe with each of you.
With love and gratitude,

Rabbi Lisa Edwards

Cantor Juval Porat