Senior Rabbi Lisa Edwards
We're fast approaching yet another Rosh Hashanah, Yom Kippur, Sukkot, Simchat Torah, and all the blessings and challenges they invite!  As Grace Paley wrote in her marvelous short story Wants, "I don't understand how time passes."
But pass it does, and we must ready ourselves for another season and another year that will unfold whether we are ready or not.  Among the brilliant offerings of Judaism is this season, the month of Elul, with its invitation in the weeks before the Days of Awe to reflect on our lives, to prepare for the future, to make ourselves each year more and more into the people we want to be through the work of heshbon hanefesh (an accounting of one's soul), by making amends for the ways we have missed the mark, asking and offering forgiveness, repairing our relationships with ourselves, one another, and with God.  Turning ourselves around to face in new directions, or stay the course, as needed.
Rabbi Heather Miller, Cantor Juval Porat, the BCC choir and musicians, and I look forward to being in community with you during the holy days to come; now more than ever we need this precious time to reflect on where we are (and were) and to plan for our future steps together.
Among the many changes we face is another shift in leadership at BCC.  August 31 was Lauren Schlau's last day as president of BCC, after two terms (four years) guiding us.  Lauren hit the ground running when she became president four years ago — visiting and visioning with every committee and volunteer, staff member and clergyperson, with the students and parents in Ohr Chayim, with every member of BCC who wanted to talk with her, dreaming and scheming, trying things out, encouraging others to do so as well, guiding us in the moment, even as we all thought about and planned for our future.  And all while working more than full time in her own business!
I am always amazed that anyone takes on the position of president of BCC (or any board of directors), but I am very grateful that people do. Thank you, Lauren. You may not have been able to achieve everything you hoped for in these two terms — who does? — but you accomplished a great deal and helped ready us for a thriving future under the leadership of Richard Lesse.  Like Lauren, Richard offers BCC a wealth of expertise and commitment, accepting with enthusiasm (and a proper amount of trepidation) the honor of being president of our congregation.  Richard, I look forward to working with you as you take the helm.
I want to express my gratitude also to board members, those stepping down (Marc Breindl, Jackie Lara, Lauren Schlau), those stepping up (Beth Ribet, Lee Alhadeff), and those remaining (Ira Dankberg, Marsha Epstein, Marc Gottehrer, Everlyn Hunter, Mike King, Ginger Jacobs, Maggie Parkhurst, James Sutherland, and Hannah Theile).  It has been a pleasure to work with you all.
[The following is based on my remarks at the annual Congregational Meeting this past July]:
The main thing I've discovered about turning 65 (which I did last March) is that people ask me when I'm going to retire. It's inevitable, I guess, that people ask and that I will at some point.
It's no secret that I've been one happy camper – I mean rabbi – working with Cantor Juval and Rabbi Heather. In a time when I was getting pretty tired, not of you but of the pace of being a rabbi, especially after Cantorial Soloist Fran Chalin retired from BCC, along came Cantor Juval and then Rabbi Heather to team up with. Not only have they relieved some of the burdens, they've just made everything more fun!  They're energizing people — making it possible for me to do more than I might otherwise have been able to do.
My mother, of blessed memory, when people would ask her if she was retired, used to say, "No, just tired."  Thanks to Heather and Juval, I'm a lot less tired, and I'm not ready to retire, but I am quite ready to cut back some more, and to look forward to becoming BCC's first Rabbi Emerita in two years.  Fortunately, we've got an excellent team in place, and Rabbi Heather is ready to step up as I step back.
In preparation, Rabbi Heather, Cantor Juval, the Executive Committee and I regularly discuss BCC's future — and try to get all of you to do so as well.  The plan the Executive Committee, Rabbi Heather and I have agreed on for the next two years is for me to move to one-third time and for Rabbi Heather to move to two-thirds time, after which I'll become Rabbi Emerita. My duties as Emerita will be worked out as things unfold — probably a little service leading, drash giving, wedding and funeral officiation, maybe a special project or two. Tracy and I love LA and BCC and we have no intention of moving anywhere else!
Rabbi Heather and I have been job sharing, as you know, for a couple of years now (me at three-quarter time, Heather at one quarter), so we think this shift will be quite manageable.  We're also confident that it will actually provide more clergy coverage to the congregation.
What a pleasure and comfort for me to be working hand-in-hand, heart-to-heart with true clergy partners.  What a gift Rabbi Heather and Cantor Juval have been and will continue to be to our congregation!
Another reason I want to slow down at BCC is that I feel I may be useful out in the world a bit more in the months and years to come.  Like many of you, I was looking forward to a more peaceful and progressive few years in our city and in the world. Now the near future looks quite different, and unless we work hard in coming years, we won't have it in the distant future either.  I plan to use some of my freed up time to work toward freedom for everyone, having more time and energy to do so.
I imagine a number of you will join me in these pursuits.  I'll certainly keep you apprised of them, and hope you'll invite me into the projects you're working on as well.
During my sabbatical months this summer, I learned a good deal by attending training and planning sessions sponsored by a number of different organizations, which I hope to bring back home to BCC.  I also hope to continue some of the writing I began this summer, as well as kickstarting some future projects.  In other words, I'm pretty sure I won't be doing much thumb twiddling in the months and years to come, though I have gotten rather fond of the "SpongeBob fidget spinner" that Bruce Weil gave me recently.
May 5778 prove to be a year of active change — and improvement — for each of us, for our community, and for the world we live in.
And now, here's a little something Tracy and I have brought back to BCC from our travels.
Outside the Box – A Live Show About Death
Written and Performed by Liz Rothschild
October 29, 2017 ~ 7:00 pm ~ at BCC
Drinks and Refreshments ~ Costumes Welcome
A groundbreaking, funny and moving one-woman show about death and burial brought to LA from the UK, where Rabbi Lisa and Tracy saw and loved it at the Brighton Fringe Festival.
Liz Rothschild is a performer, celebrant and award winning burial ground owner in Britain. Her unique insights and experiences have created an original and beautifully cathartic show, combining mercurial tales and miraculous truths, collected over the years from life's finishing line.
Funny, wise and taboo busting, "Outside The Box" confronts the "elephant in the room" with grace and humor, asking its audience to embrace mortality and look on the bright side of life, with a weave of untold and surprising stories, a hint of history, and some pithy commentary on the funeral industry.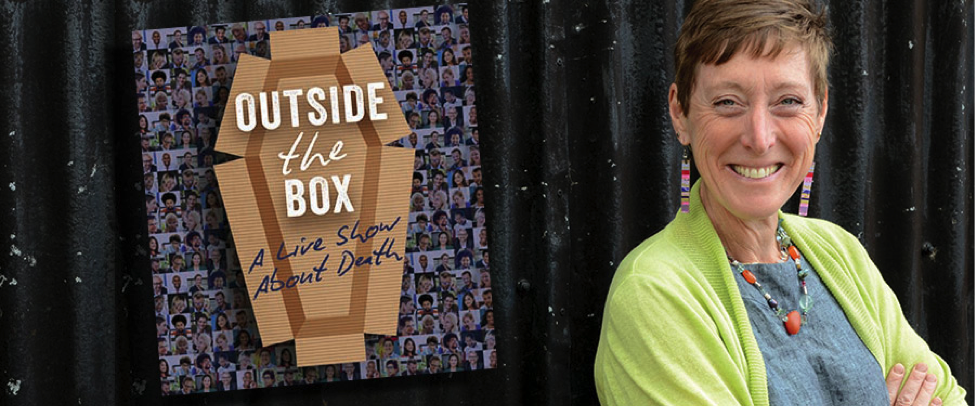 Produced by Rabbi Lisa Edwards and Tracy Moore
Regular Tickets $36, Premium Tickets $72
Sponsorships and Scholarships will be Available