By Rabbi Lisa Edwards
The following is adapted from the blessing I was honored to offer at MCC's 50th Anniversary celebration. I spoke at the Sunday Service celebrating Rev. Troy Perry on October 7, 2018. It was a blessing too to hear Rev. Perry preach again. He's a marvel.
If you'd like to know more (or be reminded) of the historic connections between MCC and BCC, you can look at BCC's history on our website: bcc-la.org/about/history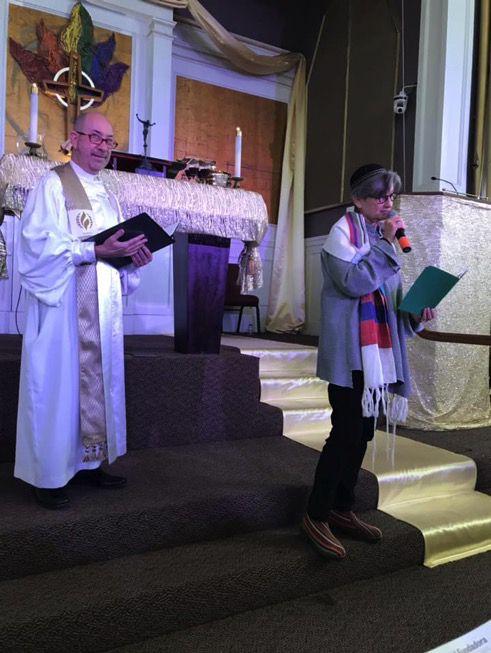 Photo by Tory V. Topjian. Rabbi Lisa Edwards speaking at Sunday service celebrating MCC's 50th Anniversary. With Founders MCC Rev. Keith Mozingo. October 7, 2018
Mazel tov! MCC and Rev. Perry —
I'm honored to join you here today. I'm Lisa Edwards and I'm the Rabbi of Beth Chayim Chadashim, aka BCC aka House of New Life. If BCC sounds a lot like MCC, it's not a coincidence. If House of New Life sounds a lot like MCC's old newsletter title "New Life," that's not a coincidence either.
BCC was founded in 1972 as the world's first gay and lesbian synagogue. Its first name was actually MCT: Metropolitan Community Temple, and — you guessed it! — also not a coincidence.
MCT aka BCC aka House of New Life exists because of Rev. Troy Perry's open heartedness.
In the early 1970s some gay and lesbian Jews began attending MCC. Troy Perry welcomed them, and he encouraged them to start a synagogue. In an interview we did with Rev. Perry for BCC's 25th anniversary, he said, "Obviously, I'm not Jewish, and I didn't know much about Judaism or starting a synagogue, but I told them, 'No matter what you do, make sure you make it really Jewish.'"
I love to tell people the story of the synagogue with a founding Reverend instead of a founding rabbi.
And I love you, Rev. Perry, for even though I wasn't around when you helped your Jewish friends found their synagogue, you've been there for me these past 25 years while I've been BCC's rabbi. There as role model, adviser, cheerleader, colleague in our mutual efforts to create safe havens and spiritual homes for those in need of them; comrades in our efforts to bring less fear, less anger, more love, more peace, to our beloved city, to our respective religions, and to the world God created and placed in our care.
Holy One of Blessing,
Bless this holy congregation and its remarkable founder, the Reverend Troy Perry, whose vision expanded Your world, whose love embraces all of Your creations. May MCC and Rev. Perry continue to bring more open heartedness, more equality, more freedom, more justice, more peace, to all who dwell on Earth.
And let us all say: AMEN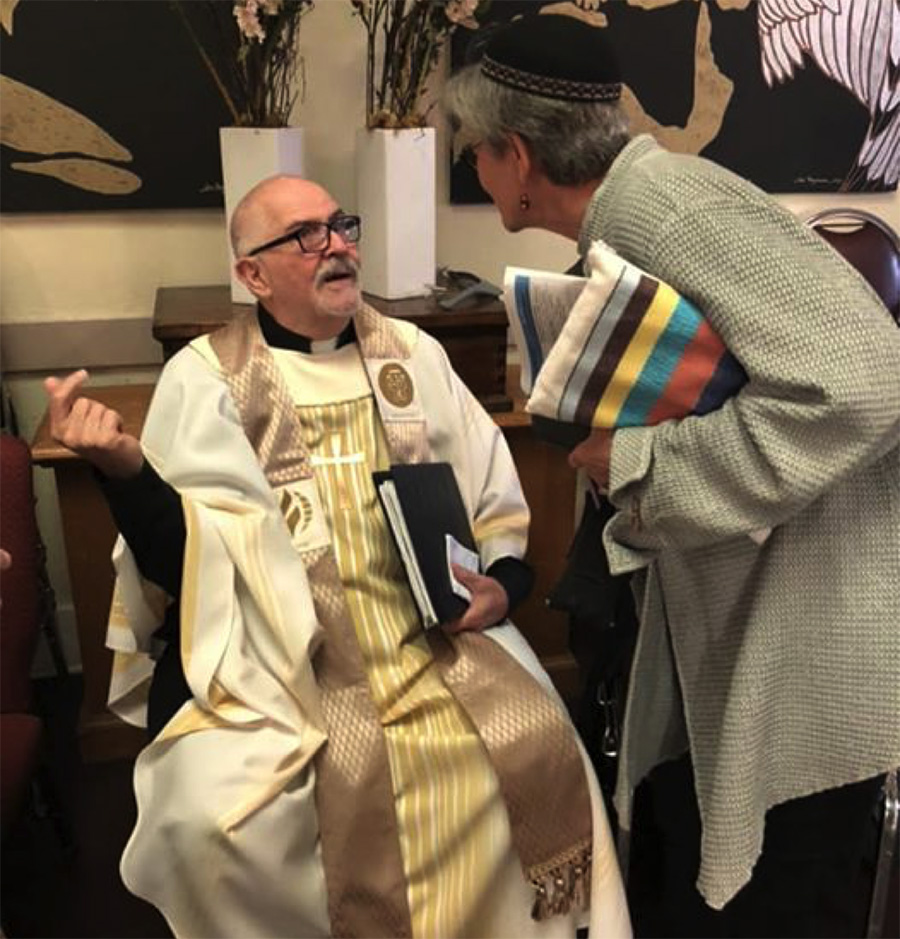 Rabbi Lisa Edwards greets the Rev. Troy Perry before the Sunday service in celebration of Metropolitan Community Church's 50th Anniversary. October 7, 2018 (Photo by Tory V. Topjian)
Brief Rabbinic Search Update
Ginger Jacobs
After the discussion at the July congregational meeting, the Board of Directors decided to seek an Interim Rabbi for BCC to start July 1, 2019, as Rabbi Lisa Edwards retires.  The Interim Rabbi will be with us for one year, during the transition from Rabbi Lisa to our new "settled" rabbi.  The Interim Rabbi will also be able to help us determine what we want in a Rabbi and how we can find the perfect fit for our community. Watch for further updates as the search process proceeds.