On Saturday, October 13th at 8:00 pm, BCC welcomes back its own Jeremy Lawrence, starring in his show, Lavender Songs – a night at a Queer Weimar Berlin Cabaret.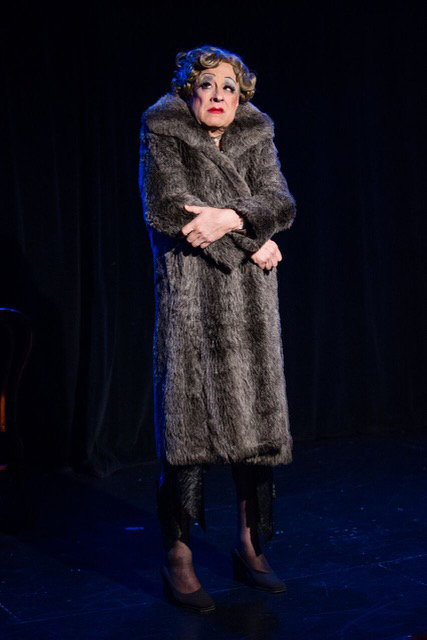 Jeremy was an integral part of BCC for many years. His singular personality, his commitment to Judaism, his talent, wit, and love of theatre made him a unique treasure among BCC members.  His incarnation as Tennessee Williams, first performed at BCC, became a tour de force solo show that, in 2004, took him back to New York, where he's currently an actor on stage, film, and TV.
This past May, we reached out to Jeremy when we honored Maggie and Dave at our Vision Awards Brunch.  He was touched, and expressed a desire to perform Lavender Songs as a fundraiser for BCC.
Jeremy's historical involvement with Berlin Cabaret began in 2000 when LACMA asked the Mark Taper Forum to create a theatre piece in conjunction with its exhibition titled "Degenerate Art: The Fate of the Avant-Garde in Nazi Germany." Jeremy was literary manager at the Taper at the time and leapt at this opportunity.  Working with scholars Peter Jelavich and Laurence Senelick, he put together the hour-long Cabaret Verboten, starring Bebe Neuwirth and the late Roger Rees.  A full-length version of it was later performed in New York, around the country, and in Europe.  (See: Jeremy Lawrence's Illumination of Queer Weimar Cabaret).
Jeremy's English versions of the show's songs – at one time accessible only in the original German – are now being sung and recorded by cabaret artists all over the world.  While not sung in the cabarets, Jeremy includes "Das Lila Lied" (Lyrics by Kurt Schwabach, music by Mischa Spoliansky, English translation by Jeremy Lawrence), in Lavender Songs.  It is, after all, the anthem of the gay liberation movement of that moment.  (It has been recorded by Ute Lemper: "Lavender Song" among others).
We're thrilled to welcome Jeremy back to BCC to lead us through that amazingly creative period in Berlin that started in the mid-1920s and lasted till Hitler's rise to power in 1933.  As Jeremy describers it:  "Weimar Germany (the spectacular democratic experiment… between the two world wars) faced many of the same issues we continue to face, but their satirists were undaunted by the challenge, and the public was eager to see what they would come up with."
Following the performance, a Q&A with Jeremy will be led by renowned playwright and dramaturg, BCC member Josh Gershick.
For more information call 323-931-7023; for ticket info: bcc-la.org/cabaret
Weimar Republic Berlin (1919-1933)
The democratic Weimar Republic in Germany existed for a short period between the two world wars.  From the mid-1920's to early '30's its capital city of Berlin witnessed an extraordinary renaissance, a convergence of intellectual, philosophical, scientific, and technological advancement, along with an unprecedented explosion of creative expression in art, music, and literature.  The pinnacle of the Weimar Berlin cabaret scene was a jubilant period where theatre artists, composers, and musicians responded to the rise of fascism with subversive satire and ebullient sexual naughtiness.  Yet few realized just how swiftly the intellectual and creative achievements of this era would be crushed by Hitler and the Nazis' rise to power.
BCC Offers Adult B'Nai Mitzvah Course
Is becoming a Bar or Bat Mitzvah something you missed? Or maybe you've never really thought about it? Well, we invite you to consider it now! BCC will be offering an Adult B'Nai Mitzvah class taught by Rabbi Lisa and Cantor Juval on Monday nights, beginning October 29th from 7 to 9 pm. The course will be 18 sessions long (full calendar to come), culminating with a group b'nai mitzvah service on Shabbat Shemini, March 29-30, 2019.  Whether you decide to join the b'nai mitzvah group, or are just interested in more Jewish learning, here's an opportunity to learn with friends and a chance to accomplish something you may have thought was beyond your reach. We look forward to sharing this with you. The class is limited to 15 people, so let us know soon by contacting Ronnie Wexler: rwexler@mac.com.
BCC Books and Bagels
Larry Nathenson
BCC's Book Group (Books and Bagels) has been meeting continuously since January 1995. The group meets monthly in members' homes for a bagel brunch and discussion of a book selected by the group. We read a variety of books: fiction and non-fiction, American and Israeli, historical and contemporary.  The only requirement is some Jewish content (LGBT content is a plus, but not required). Our next two meetings are as follows.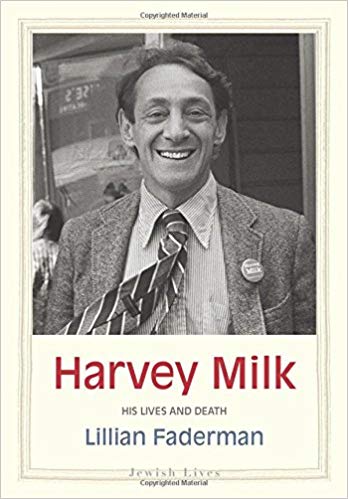 Sunday, September 30: Harvey Milk, His Lives and Death, by Lillian Faderman
This is a new biography of Harvey Milk by the co-author of Gay LA and a long-time friend of BCC, focusing attention on his early life in New York and his pre-political life in San Francisco and their impact on his all too short political career.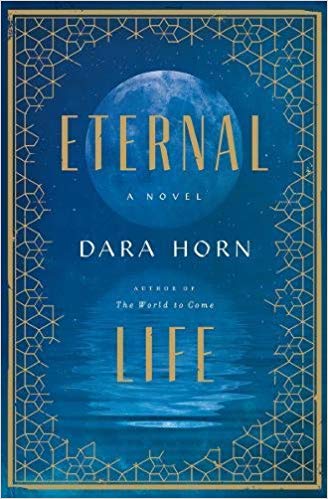 Sunday, October 28: Eternal Life, by Dara Horn
This novel, by an author whose previous work our group has enjoyed, creatively explores Jewish history through the eyes of a woman who lives through it all because she has made a Faustian bargain and has lived for 2,000 years, and now seeks to escape her fate.
The group is open to BCC members and non-members, and you are welcome to join us for a particular book that may interest you. RSVP is required for location and to ensure enough food. For more information, contact Larry Nathenson at Larrynath@aol.com.
Need a Morale Boost? Try BCC's Life Transitions Support Group
If you could use some help dealing with the stress of relationships, careers, economics, social life, family life, health or bereavement, you might want to give the BCC Life Transitions Group a try.  The goal of the BCC Life Transitions Group is to enhance participants' spiritual and emotional growth.
Participants have the opportunity to share their experiences, give and receive mutual support, and exchange coping skills with one another in a confidential atmosphere.  Everyone is welcome – members and non-members alike.  The group meets twice a month on the first and third Wednesdays from 7:00 – 9:00 pm.
This support group is facilitated by Shirley Hirschberg, Social Worker.  Shirley is also available for individual sessions. For more information, please call the BCC office at (323) 931-7023, ext. 205.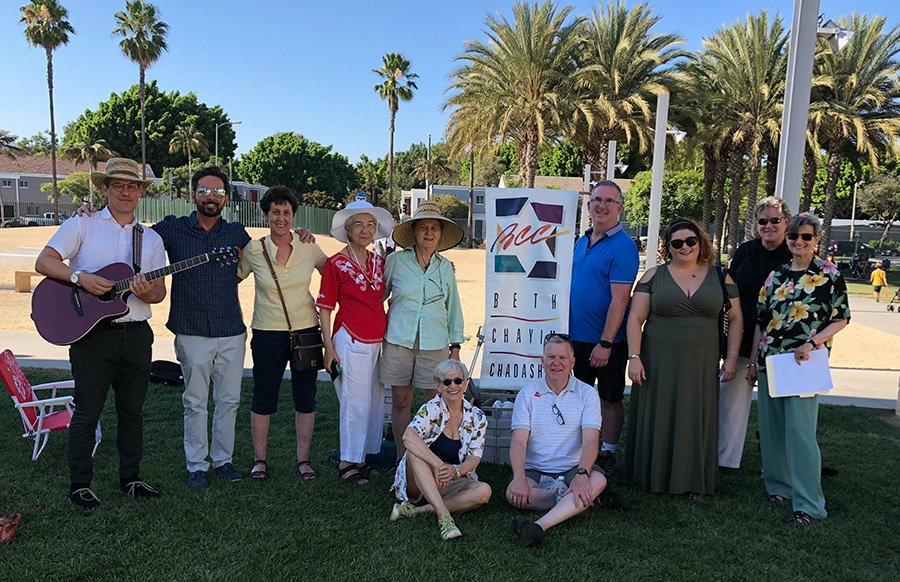 Shabbat on the Town at LACMA, August 3, 2018, photo by Tracy Moore. Left to right: Cantor Juval Porat, Mark Vrbka, Ronnie Wexler, Marsha Epstein, Aviyah Farkas, Tracy Moore, Mike King, Richard Lesse, BCC office administrator Chelsie Uriarte, LACMA employee, Rabbi Lisa Edwards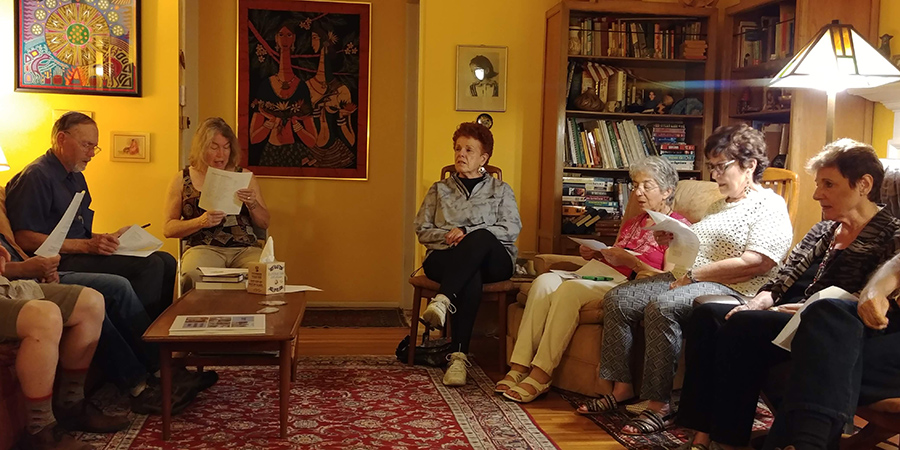 Shabbat on the Town at the home of Marsha and Aviyah, August 17, 2018, photo by Aviyah Farkas. Left to right: Dave Parkhurst, Maggie Parkhurst, Kenna Love, Marsha Epstein, Hannah Theile, Leslie Tuchman