Senior Rabbi Lisa Edwards
This year the LA Pride Parade, famous for being very much a parade and not very political, seemingly had no trouble turning back into a very political march on the morning of Sunday, June 11.  The #Resist March 2017 stepped off one block west of where LA's (and the nation's, and the world's) very first Pride Parade stepped off the curb at the corner of McCadden Place and Hollywood Blvd in 1970.  The photo here — of Rabbi Heather indoctrinating (I mean, teaching) her son about our history — is of the plaque commemorating that event. I was privileged to offer the invocation when that plaque was dedicated in 2005 (35 years after the original parade).  Here is part of what I said that day:
Thirty-five years ago today, when the first Pride Parade stepped off this very curb and into this street, no one could have imagined what Rev. Troy Perry, Morris Kight, and Rev. Bob Humphries were creating: a simple act of celebration with the power to encourage hearts, open minds, and restore souls.  [from Invocation by BCC Rabbi Lisa Edwards at the dedication of the plaque at Hollywood Blvd and McCadden Place. That corner also bears a sign naming it Morris Kight Square.]
I was invited to take part in that plaque dedication by the Rev. Troy Perry, the only one still living from that original powerhouse triumvirate of Troy, Morris and Bob, who together helped change the way queer people "move" in the world.  The three of them, along with many others of course, helped coin the term "pride" as it has been used in the gay and lesbian community for so long. Troy was the founder of Metropolitan Community Church (MCC), the world's first predominantly LGBT religious organization. And, in 1972, he played a role in the founding of BCC when he encouraged a group of Jews who were meeting at MCC to form their own synagogue (for more information, see the BCC history on our website).
I was privileged to march this year with people from a variety of affiliations — BCC members, clergy and congregants from members of LAQuICC (LA Queer Interfaith Clergy Council), supporters of Bend the Arc: A Jewish Partnership for Justice, and member families from BCC's neighbor community IKAR.
Signs and chants replaced floats and loud music.  And protesters resisting oppression and promoting human rights turned out in abundance for a long walk (about 3.5 miles) from Hollywood and Highland through to Santa Monica Blvd and San Vicente.  One of my favorite signs was a picture of a church and a picture of the White House with a wall between them, and the line:  "Build THIS Wall."  Another sign:  "You know things are bad when the gays cancel a parade."  And, "I'm missing brunch for this, that's how pissed I am."  And LAQuICC's banner: "We are in your faith."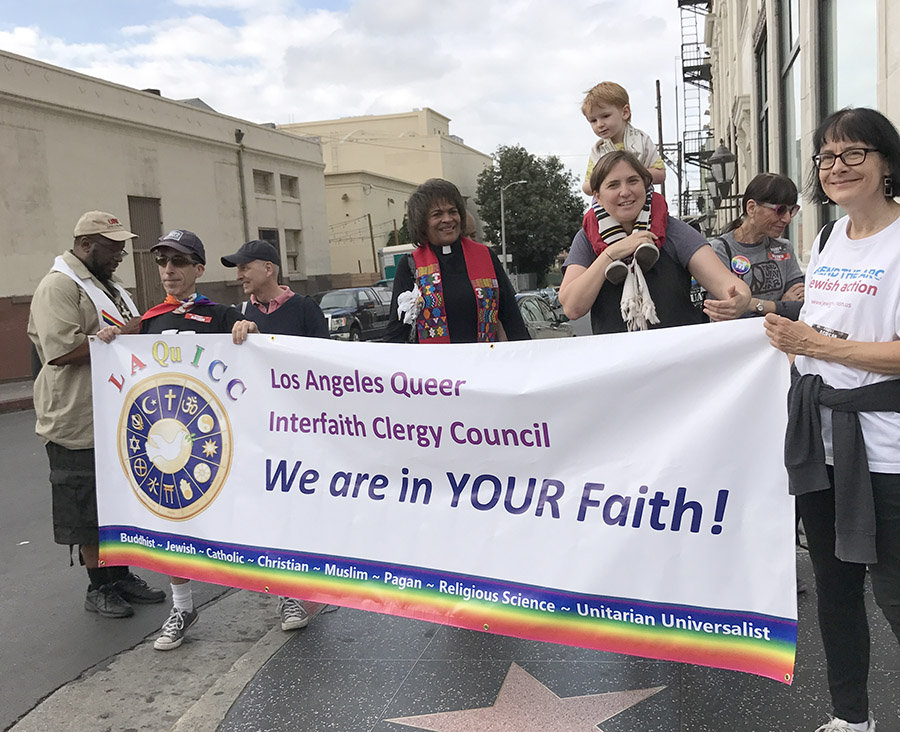 I was proud not only to walk with BCC members and Rabbi Heather (with her son on her shoulders waving a rainbow flag), but to run into many more BCC folks along the way, marching with other groups or on their own, even one in a wheelchair (go, Estaire! and Jeanelle – see photo), carrying signs and rainbow flags.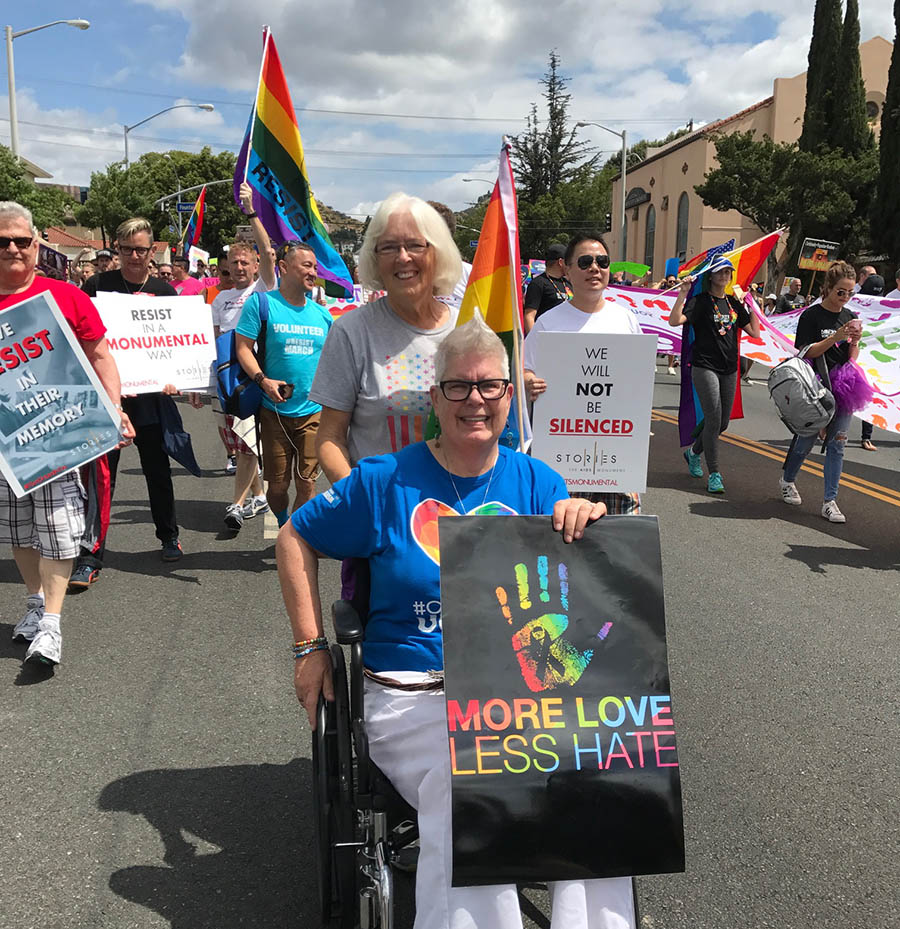 And how moving this year to be standing a block from the start of the very first Pride Parade, and listening to Rev. Troy Perry's booming voice over the speaker system encouraging us to "march to resist hate," to hear him remember those lost last year at the Pulse shooting in Orlando.  "Hate comes in many forms," he said, "we always have to resist it." And after recalling the legislation and prejudice against us that existed in 1970, Rev. Perry drew his remarks to a close: "We refuse to go back to 1970…" reminding us that what we chanted then is still true today: "an army of lovers can never be defeated."
How sad that in 2017, 47 years after the first Pride Parade, we need once again take to the streets in protest, but how comforting to hear as we did so the heartfelt words and familiar voice of the man who encouraged BCC's founders to start the community we still cherish today.
May we all march on with pride!
Lisa
Rabbi Lisa Edwards is on sabbatical/vacation until August 15, although she will be in attendance at BCC's annual Congregational Meeting on July 9, as well as at some BCC programs or services. Cantor Juval Porat returns from sabbatical on July 1.  If you need or want to speak with a BCC clergy person, please contact Rabbi Heather Miller.