Angela Brown
Homelessness is an issue that has gripped not just our city and country but also the entire world. The last time a global survey was performed—by the United Nations in 2005—an estimated 100 million people were homeless worldwide, and 1.6 billion lacked adequate housing. Certainly since then, this number has increased tremendously. According to the US Department of Housing and Urban Development, approximately 554,000 homeless people were living in the United States on a given night in 2017. A total of 193,000 of these individuals were living on the streets, without access to a shelter, transitional housing, or safe haven.
According to the results of the Greater Los Angeles Homeless Count, released in May 2018, approximately 53,195 people are homeless in LA County. This number represents nearly 10 percent of the homeless population of the entire United States. Take one look at downtown's Skid Row—and the homeless encampments throughout Los Angeles—and you'll know this is a serious, ever-growing problem that must be addressed, not just with shelter but also with compassion and respect for the dignity of individuals with extremely limited resources.
At BCC, we are committed to helping those in need of food, clothing, shelter, and above all, human contact and support. Therefore the Tzedakah Council has selected four nonprofits that assist the homeless—two in Los Angeles, one in San Diego, and one in Israel. Each organization will receive $250, with the funds coming from our coin-drive collection that ran from the fall 2017 to Pesach of 2018. In the next issue of G'vanim, the council will detail our donations for the collection cycle that ran from Pesach to the High Holy Days.
Here is some information about each of the charities your generous donations will be helping.
Food on Foot
Meeting people where they need it most, Food on Foot takes it to the streets, helping individuals and families. A well respected nonprofit since 1996, the organization provides the poor and homeless of Los Angeles with meals, clothing, job opportunities, and assistance in the transition to employment and stable housing.
To donate or to learn about volunteer opportunities, visit http://www.foodonfoot.org.
The Shower of Hope
This project, an initiative of the nonprofit End Homelessness California, brings dignity to the homeless in Los Angeles via a mobile truck equipped with showers. In just two years, The Shower of Hope has expanded from one mobile shower unit to two and now serves nine locations. They also provide hygiene kits and partner with other organizations to provide clothing and haircuts to homeless individuals.
Find out more at http://www.theshowerofhope.org
Border Angels
Since 1994, when the US government implemented its strictest border enforcement policies ever, more than 11,000 migrants—people searching for a home in the United States—have died in the Mexican desert, mostly due to dehydration. Based in San Diego, Border Angels leaves gallon jugs of water in the desert along high-traffic migrant paths. The organization also is currently providing food, water, warm clothing, hygiene supplies, and accommodations to the thousands of individuals in the Central American caravan who are awaiting entry into the United States in Tijuana.
Learn about volunteering with water drops and/or donating at http://www.borderangels.org.
Shanti House/Beit HaShanti
Shanti House, located in Tel Aviv and in Sde Boker, is committed to taking care of youth who are in immediate danger or likely to succumb to physical violence, sexual abuse, delinquency, or prostitution. Their doors are open to abandoned youth who have been sexually, physically, or emotionally abused. By providing a loving home with individuals who care, they believe a person's life can be changed. The shelter is open twenty-four hours a day, and the organization also implements a preventive program for youth at risk.
For more information, visit https://shanti.org.il.
The Tzedakah Council is open to all BCC members. We also welcome suggestions.
"If you shall pour yourself out for the hungry and satisfy the desire of the afflicted, then shall your light rise in the darkness and your gloom be as the noonday. And the eternal will guide you continually, and satisfy your desire with good things, and make your bones strong, and you shall be like a watered garden, like a spring of water, whose waters fail not." —Isaiah 58:10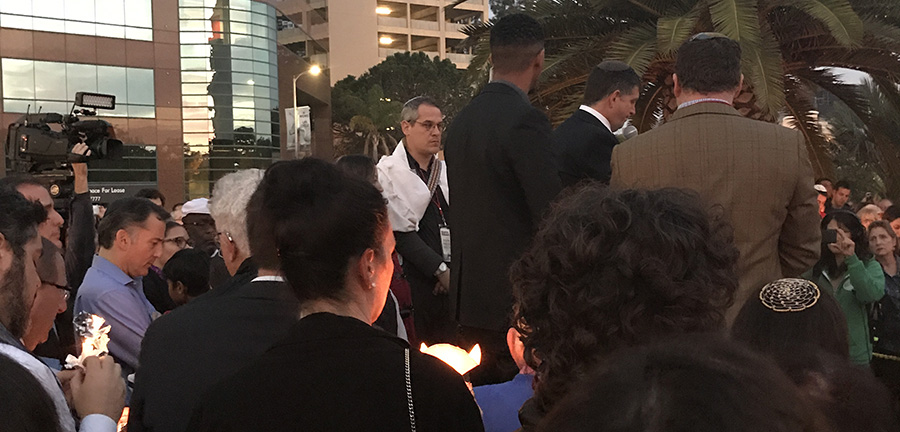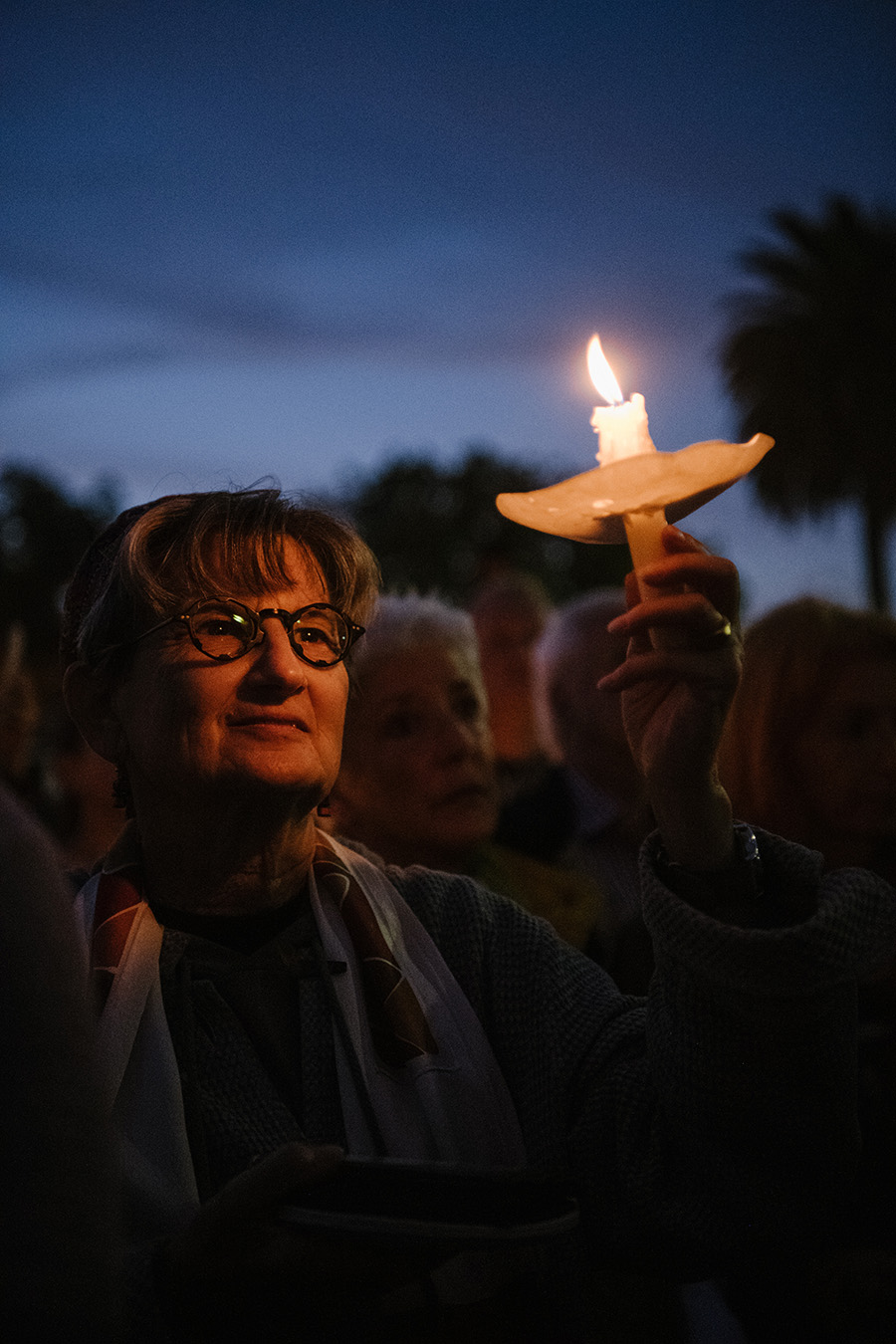 On October 28, Rabbi Lisa and Cantor Juval participated in a Jewish community vigil in Los Angeles for those who were killed in the tragic shooting at Tree of Life synagogue in Pittsburgh the day before.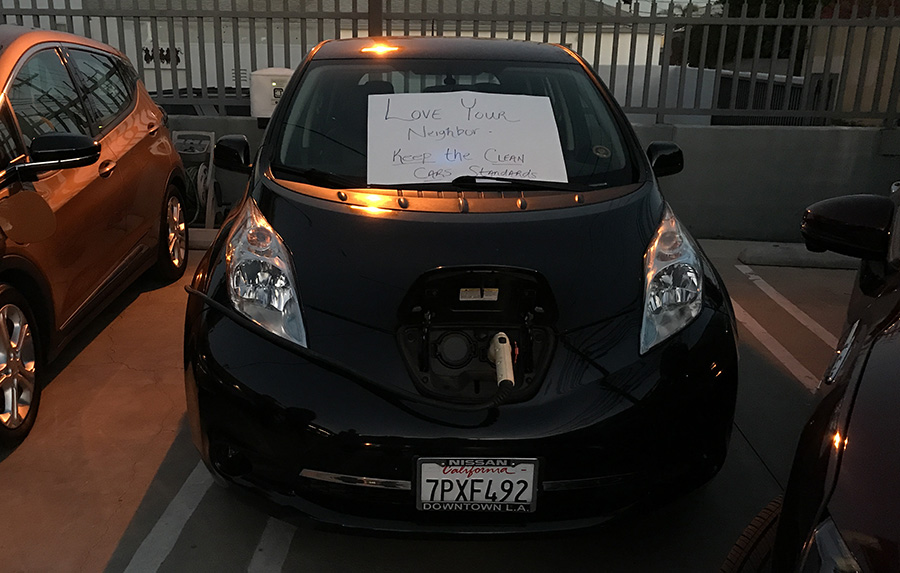 On December 7, BCC hosted a gathering of electric cars in our parking lot, demonstrating our support for clean energy and our charging station for such vehicles.
Need a Morale Boost? Try BCC's Life Transitions Support Group
If you could use some help dealing with the stress of relationships, careers, economics, social life, family life, health or bereavement, you might want to give the BCC Life Transitions Group a try.  The goal of the BCC Life Transitions Group is to enhance participants' spiritual and emotional growth.
Participants have the opportunity to share their experiences, give and receive mutual support, and exchange coping skills with one another in a confidential atmosphere.  Everyone is welcome – members and non-members alike.  The group meets twice a month on the first and third Wednesdays from 7:00 – 9:00 pm.
This support group is facilitated by Shirley Hirschberg, Social Worker.  Shirley is also available for individual sessions. For more information, please call the BCC office at (323) 931-7023, ext. 205.
Mazel Tov
Yasher koach to the following BCC members who recently embraced the Covenant (or are about to do so):
Jessie Meehan
Jack Kelly (celebrate with Jack at Shabbat services on January 11)
Mark Homyk
And to BCC member Everlyn Hunter and Rabbi Lisa Edwards for their joint presentation (December 14) at Temple Isaiah in Palm Springs on the future of LGBTQ synagogues, as part of Isaiah's ongoing series, Twice Blessed
And a hearty mazel tov to BCC members who are getting married in January and February:
Jessie Meehan and Merilou Salazar (aufruf January 11)
Jordan Francke and Amir Aharonov (aufruf January 25, drash by Amir)
If you have good news to share with the congregation, please send it to larrynath@aol.com or to Chelsie in the BCC office at bcc@bcc-la.org.