Cantor Juval Porat
During Simchat Torah, which marked the end of yet another glorious High Holiday season at BCC, we made the minor yet significant change in our Amidah liturgy from describing God as "morid hatal / מוריד הטל (who causes the dew to come down)" to "mashiv haruach umorid hagashem / משיב הרוח ומוריד הגשם (who makes the wind blow, and makes the rain descend)." We thus recognize the shift in season and the wish for blessed amounts of rain. Of course, reciting those words also helps us to remember the part we take in ensuring the health of the planet and the connection between the way we live our lives and how it affects the environment we live in.
As Winter approaches and the days get shorter we also draw closer to Hanukkah, the festival of light commemorating the re-dedication of the temple and reminding us of the importance of keeping our identities, culture and integrities intact and relevant. Charlie Kramer, a Jewish musician and songleader from Los Angeles, will join us for a very special Hanukkah service this year. I hope that together we'll be able to continue shining the light of a renewed sense of self that we've been carrying since the end of the High Holiday season. Through the rest of 5778 our holidays and special insertions into the liturgy will serve us as reminders to pay attention to our choices, the actions and gifts we bring to this world. Below is a conversation Charlie and I had in preparation for the service. I look forward to seeing you during Hanukkah and beyond.
Warmly,
Juval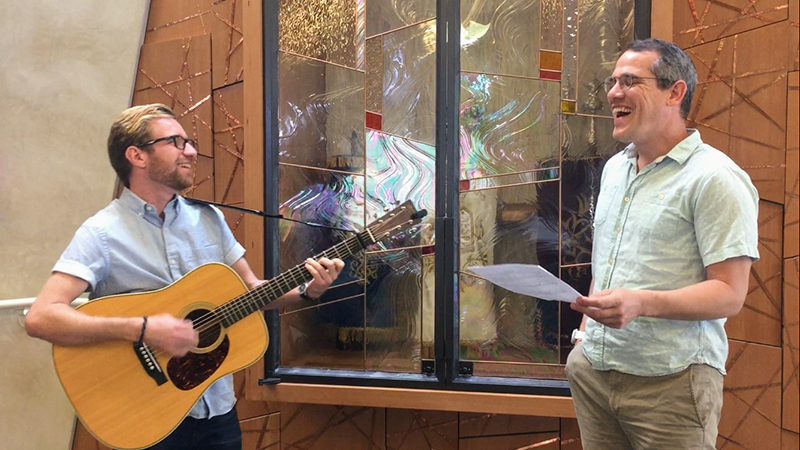 Cantor Juval and Charlie Kramer during rehearsal
Juval: Hi Charlie!
Charlie: Hi Juval!
J: You're gonna be playing music with us at BCC's Hanukkah service. What can we expect?
C: We can expect a good blend of upbeat, blues, rock and a good blend of deeply spiritual moments.
J: That's wonderful!
C: You know, as much as I come from a background of rock music – I grew up on the Doors and The Who and all the bands that have influenced the music that I write – the thing that I care about the most deeply is the moments where we sing together and where we connect. Every chance I get to sing something in front of a community, I want to take a moment and make sure that we're all going to sing it together. For me that would be what I'd like to see and bring into the Hanukkah service.
J: I think we can make that happen! How would you describe yourself as a musician?
C: I'd say curious, rootsy and… I'd say I'm very much someone who is tied to their musical past while also exploring new ways of writing through pop and through folk and indie-rock and I'm trying to infuse that with the singing styles of [Jewish] songwriters like Rick Recht and Dan Nichols and trying to see where those things can cross and for me that's a really cool journey and something that I love.
J: And why Jewish music? Do you think you're limiting yourself?
C: You know, I think of it as the opposite of a limit, more as an expanding world of possibility and also – it's from my heart – I think of a line in a guitar and I think of where this could fit in a spiritual moment, how I can write it so that people want to sing with me and I think that stems from the way I like to pray and it's what I want to be doing every day.
J: That's a beautiful way of framing your approach to what makes music Jewish. You just released your first EP ever named We Will Overcome. Tell me about the journey of making it.
C: It's been a long journey! I wrote the first half of it in Australia, and the other half of the music when I came back and a lot of it is about personal journeys, as well as dealing with the political climate, not just in America but also in the world, shifting before my eyes at the same time that I was learning to be an adult. And trying to deal with that, also while I was learning to be a prayer leader was an incredible journey in my life, which was really challenging but also fascinating, so I wrote these songs naturally from those feelings that I was having and I'm deeply proud of the content and proud of the work that I got to do with Josh Goldberg who produced the record and who, when I got back encouraged me to make this record, even though I was hesitant. He pushed me and I'm really glad that he did because it made me realize that this is a huge passion in my life – writing and recording music. I got to work with some incredible musicians who really brought it to life. I'm very grateful for all the people (like BCC), who helped me fund the project through my Jewcer campaign.
J: Tell me about your time in Australia?
C: I was in Australia for a year in Melbourne (2015-2016) for an internship at a synagogue. My job was to infuse my song leading past into a more classical Reform style. I was supposed to bring this new Jewish music that was happening in America while simultaneously being trained to be the best professional Jewish worker that I possibly could be. The test was really of me giving and also taking and learning. Coming home I decided that my passion was the music and that's where I'm at now.
J: When you talk about creating spiritual moments, how do you tackle those? Do you have people who you look up to as creators of spiritual moments? What is a spiritual moment for you?
C: A spiritual moment for me is when everyone is there. There can be a spiritual moment when everyone is singing together, there can be a spiritual moment when everyone is listening or when everyone is silent or when a rabbi is giving a sermon and we're all caught up in the moment. So, for me it's the voluntary attention that we're all committed and wanting to give and creating that – there's no formula because you can't force it. The big thing for me is the idea of letting go and investing myself into the moment as I wish other people to invest and guiding other people without over-guiding and I think someone who does that the best is Dan Nichols. Dan just is a naturally spiritual person and one thing that I learned from him is that he isn't afraid to dive in when he wants to. A lot for me is about the balance between making sure you're letting people know what's happening and how they can be involved while simultaneously showing them what their energy could be like while they're being involved. Also, most important is giving the people in the congregation the music and type of learning that they really would like.
J: Sometimes a congregation doesn't quite know what they want and you might be experimenting with providing things that cater to needs they didn't even know they had!
C: That's also true!
J: You chose Closer as the first single to represent the EP. What makes that song Jewish?
C: I used to say it was not a Jewish piece of music. Rick Recht, after hearing the song said to me that Closer was "super-Jewish". He changed my mind because I think there's an element in here where I looked at the idea of "don't stand idly by" from Leviticus, which served as the basis for the entire record. Closer sparked the idea that I needed to record those songs and share them with people. When I wrote the song I wasn't thinking of it in a Jewish context, yet I wrote the song in a chapel at a synagogue while in between song leading with kids, so it came from Jewish moments and a place of the people around me within the Jewish community showing me the importance of standing up. In that sense, the influence of where this song came from is Jewish and just because it doesn't have Hebrew or state a specific Hebrew text I think it's just as, if not more Jewish as the other songs on the record. It's kind of a cool journey of figuring that out after you write a song.
Overall, I would say that I'm a song leader at heart, followed by a songwriter. I love singing with people and the work of song leading, almost as a science. Any chance I get to sing with a community, I'm ready to learn in the moment and I want to challenge the mold of how I'm doing things and when. I'm excited to do that with BCC.
J: We're excited too! I'm curious: do you choose your own songs to record based on their level of singability?
C: You know, I think this is a very interesting question. When you're a Jewish writer, a lot of people might put pressure about it in our Reform Jewish world. Yet sometimes, with a song, some people will say: this is not a very singable song and then you start singing it and all of a sudden it explodes as a very singable song. In the same way you don't always know what people are looking for, the same way a song considered not singable might prove to be the opposite and so there are songs that I've written that I did not record because I thought they're not singable and then, once I recorded everything I realized that it's not much of a singable EP anyway from what I created. This was really a statement record for me and something I wanted to create with the sound of rock. I wrote Closer, and I had no idea that it was a call-and-response piece and yet it is!
J: It's a lovely tune. I look forward to singing this and many more songs with you on December 15th!
Hanukkah Shabbat Service is on December 15
BCC's annual Hanukkah Shabbat service will be on Friday, December 15. Everyone is invited to join us for one of our brightest celebrations of the year for the whole family! Bring your menorah, your appetite, and your holiday spirit.
The following schedule for the evening is approximate.
6:00 pm – Latke party, Hanukkah crafts, family candle lighting and singing for families with children.
7:30 pm – Hanukkah Shabbat service with Rabbi Heather Miller and Cantor Juval Porat and special guest singer/songwriter Charlie Kramer, followed by more singing, candle lighting and Hanukkah fun.
9:30 pm – A delicious latke and sufganiyot party for all ages!