Richard Lesse, President
There is a great deal of change happening at BCC nowadays.
June started with an incredibly successful BCC Vision Awards. More than 250 of us gathered to honor some truly deserving people and have a great time. Together, we raised more than $150,000 to support BCC's clergy, staff and programs. Thank you to all who attended, donated and volunteered!
In June, we also said farewell to Rabbi Heather Miller, as she and her family headed off to their new adventure in Orange County. Before leaving, Rabbi Heather wrapped up the Ohr Chayim school year with a heartfelt and celebratory siyyum/culmination ceremony complete with gifts for parents and teachers, beautifully designed certificates for students, potluck lunch and selfie station. We wish Rabbi Heather, Melissa and the boys all the best in their new homes – both physical and spiritual.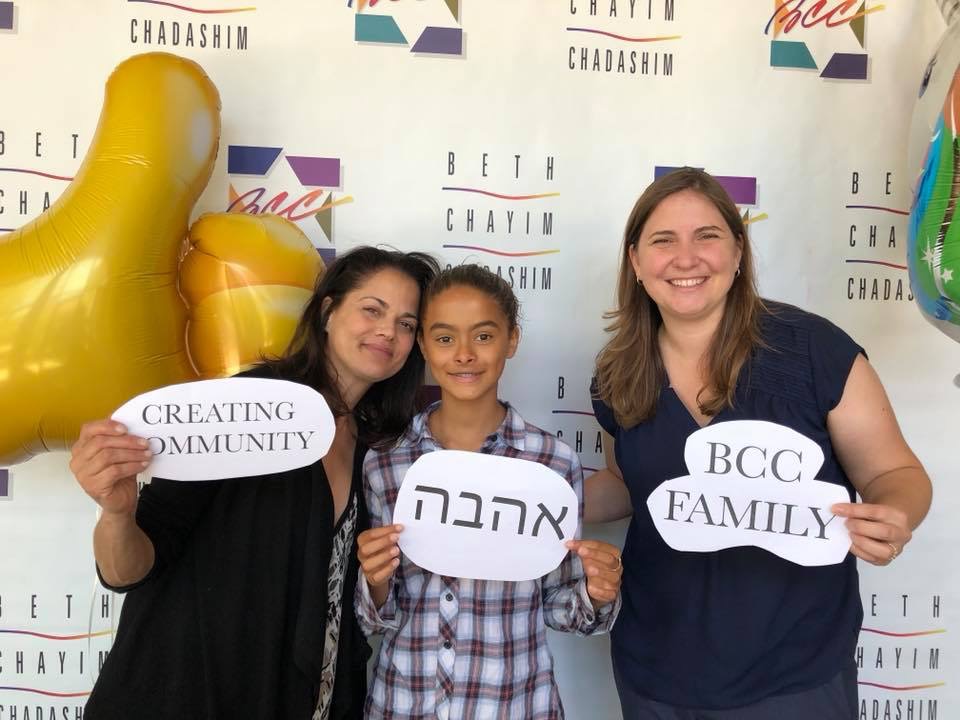 We thank Cantor Juval Porat for serving as our spiritual leader during Rabbi Heather's departure and during Rabbi Lisa's vacation. We're excited that Cantor Porat will be assuming leadership for our Baby Kibbutz program. If you would like to help out with Baby Kibbutz, let him know!
We also said farewell to our long-time Office Administrator Victoria Delgadillo, who has retired from BCC. We thank Victoria for her many years of dedication and wish her the very best.
As much as June was full of farewells, July will be full of new beginnings.
We hope you will stop by the office and give an extra warm BCC welcome to our new temporary administrative assistant, Chelsie Uriarte. Chelsie comes to us with experience engaging youth and young adults in Jewish and LGBTQ life through her work with Camp Neuman, Beth Shir Shalom's pre-school program and AmBi Social, a bi-pride networking group here in Los Angeles. Welcome, Chelsie!
In July, we also aim to conclude our search for a new Director of Education. The Search Committee, led by BCC Board member Everlyn Hunter and Ohr Chayim parent Deborah Lowe, is hard at work interviewing candidates. We look forward to welcoming the new Director and to planning for the 5779 Ohr Chayim school year.
In July, we'll also conclude our Listening Tour sessions. The Tour was created to help us prepare for Rabbi Lisa's retirement next year and to learn what is most important to our membership. We'll use information from the Tour to guide our Rabbinic Search Committee, which begins its work in early Fall.
You can learn all about the Listening Tour results on Sunday, July 29 at our annual Congregational Meeting.
The Congregational Meeting is the one time a year we, as congregants, gather to conduct the business of BCC. It's really important, and I urge all BCC members to attend. We'll be approving next year's budget and will vote in new officers and at-large members of the Board of Directors.
We'll also talk about ways to strengthen and support BCC's member engagement committees. These committees touch every aspect of congregational life at BCC – social and cultural group activities, adult education, ritual practices, tzedekah, tikkun olam and more. We'll explore what each of the committees does, how you can get involved and what else we'd like to create together. If you have any thoughts or ideas about committees or their activities, please come to the meeting or reach out to me directly.
An important part of the committee discussion will be about how BCC can get more involved in critical social justice issues of our time, such as homelessness, immigration reform and racial justice. We'll hear about Safe Parking LA, an initiative to use parking lots of religious institutions to provide shelter for people who live in their cars. We'll hear about #FamiliesBelongTogether and efforts to protect immigrant families torn apart at our southern border. And we'll learn about the Black-Jewish Alliance and their efforts to address racial and economic injustice here in LA.
I hope to see all of you at the Congregational Meeting on July 29 as we learn together how to move through these times so full of change and possibility – for our congregation and our country.