As we prepare for the upcoming High Holidays, here are some thoughts on the liturgy we use during Elul, our month of preparation for those Days of Awe, from Cantor Juval Porat.
1.
אחת שאלתי מאת ה' אותה אבקש
שבתי בבית ה' כל ימי חיי
לחזות בנועם ה' ולבקר בהיכלו
One thing I ask of Adonai, only that do I seek
To dwell in the house of Adonai all days of my life
To perceive/envision the world through the pleasantness of the Divine and to frequent God's Temple
(Psalm 27:4)
This idea of dwelling in the divine house all the days of our lives might be more inclusive than that which is obvious. We might know we're in God's proximity or dwelling place when we witness a beautiful sunset, or when we're being with a loved one, or when we're having a conversation where we feel heard and validated. Yet, when we sing "kol yemey", we might want to include more than those obvious moments.
What would it be like if we were to live as though that there is something fundamentally holy and precious about each and every moment in our lives? How might we relate to our lives differently if everything were taking place in Adonai's house?
One thing I ask of Adonai, only that do I seek
To dwell in the house of Adonai all days of my life
To perceive/envision the world through the pleasantness of the Divine and to frequent God's Temple
May our requests be heard, our yearnings be satisfied and our witnessing of that which unfolds be reflected through the pleasantness of the Divine.
[Based on a teaching by Rabbi Jordan Bendat-Appell]
2.
הנשמה לך
The soul is Yours (God),
והגוף פעלך
and the body is Your craftsmanship
חוסה על עמלך
Have compassion upon your work.
(from the High Holiday liturgy)
In the weeks leading up the High Holidays, in our work of t'shuva, returning to and contemplating our relationship with our understanding of God, this piece of liturgy, traditionally recited on the Eve of Yom Kippur, reminds us that our whole selves are the result of divine labor.
Divine manifestation, suggests the prayer, is not removed from us, it is not hidden and inaccessible. Recognizing the miracles of our bodies and the truth of our souls, suggests the prayer, provides us with direct access to embedding ourselves in divine totality.
During this season may our engagement with our body and souls provide a pathway to t'shuva.
3.
עזי וזמרת יה ויהי לי לישועה
My Strength (balanced) with the Song of God will be my salvation (Psalm 118:14, Exodus 15:2)
A Hasidic approach to the understanding of the concept of "mitzvah" – the Hebrew word for "commandment" – suggests that instead of seeing the term from a Hebrew root meaning to command, one may see the word as a derivative of an Aramaic term, tzavta, meaning to be joined together in community or partnership. And so when we fulfill a mitzvah or experience a mitzvah, we are connected in some way that prior to the experience we were not connected. A mitzvah creates a holy or sacred connection. During the month of Elul, leading up to the High Holidays, we're invited to contemplate this quality of connectedness between ourselves and our understanding of God. In the remaining weeks leading up to the High Holidays and during the Days of Awe season, I invite you to notice any sense of connectedness that might come up for you as we join our voices in song and in chant and in silence.
Ozi V'zimrat Yah, taken from Psalm 118, though not a traditional Elul or High Holiday psalm, recognizes the relationship between what is our will, effort and desire and the "God-song" that is sung through us. What's the God-song for you? And what would it mean to balance those two aspects of our experience as a human being and strengthen the connection between them in the coming year? During these days of Awe, I invite you to consider paying attention to the God-song that arises as we join together in community to welcome in the New Year.
[Based on a teaching by Rabbi Shefa Gold]
Shana Tova Umetuka – a sweet new year to us all,
Cantor Juval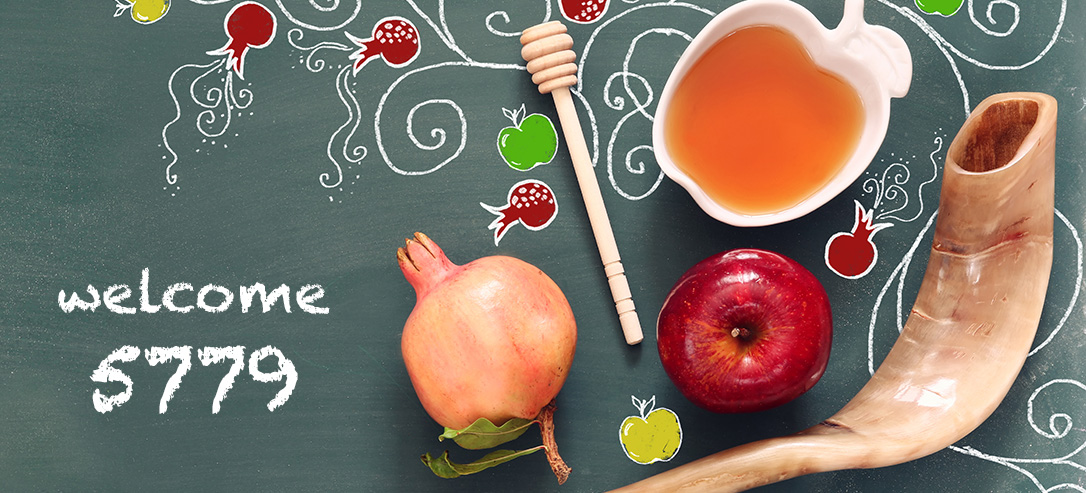 Beth Chayim Chadashim
Days of Awe Schedule (5779/2018)
Rabbi Lisa Edwards & Cantor Juval Porat
Download a printable version of the schedule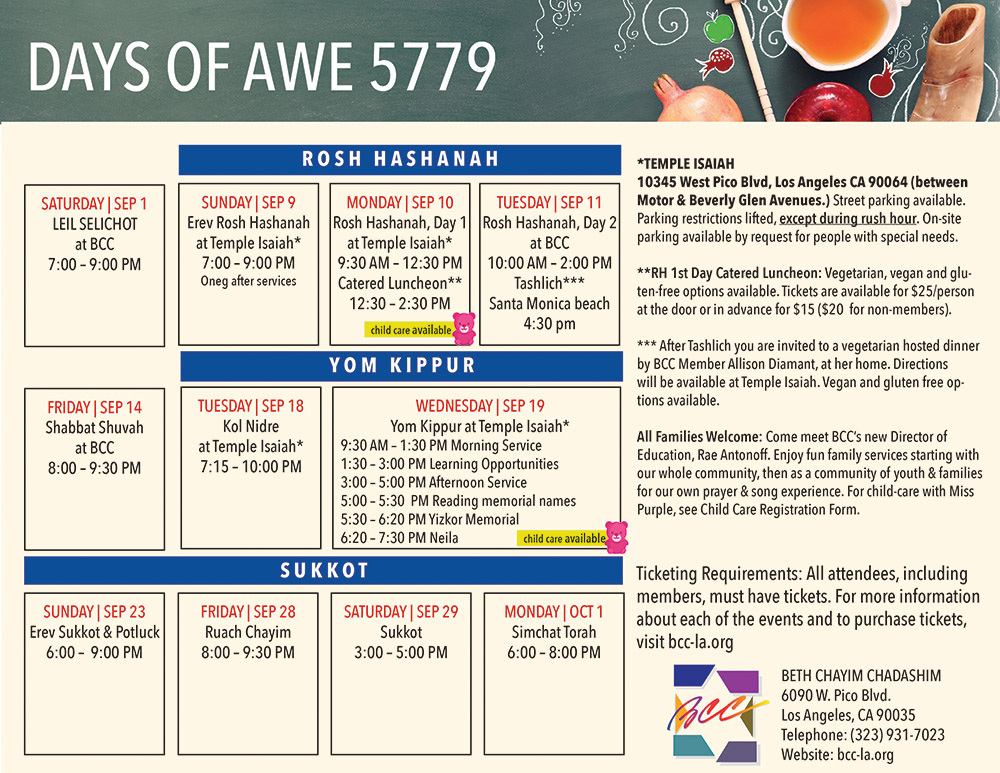 Got Sukkah?
BCC does! Or it will with your help!
A "Cornucopia" for Sukkot week in the BCC sukkah
Sunday, September 23:
2-5 pm: Help build and decorate our sukkah
5-6 pm: Eat in the sukkah — bring your own meal and a snack or drink to share
6-7 pm: Join Cantor Juval and Rabbi Lisa as we welcome Sukkot with some schmoozing, singing, and waving the etrog and lulav (made from plants growing in BCC's own garden!!!)
Tuesday, September 25
7:15-9 pm: Join Rabbi Lisa in the BCC sukkah for our annual Sukkot Torah study
Wednesday, September 26
7 pm: Stop by the BCC sukkah for a lulav wave on your way into the BCC September Board of Directors meeting
Friday, September 28
6-7:45 pm: Potluck dinner in the sukkah
8 pm: Ruach Chayim Shabbat service in the sanctuary including installation of Board members
Monday, October 1
Simchat Torah observance and celebration (details to be announced)
Helpful Information
· Temple Isaiah Address & Parking Information: Located at 10345 W. Pico Blvd, LA, CA 90064, near Beverly Glen. Street parking available. Parking restrictions lifted, except during rush hour. On-site parking at Temple Isaiah available by request for people with special needs. Email bcc@bcc-la.org.
· All Families Welcome: Come meet BCC's new Director of Education, Rae Antonoff. Enjoy fun family services starting with our whole community, then as a community of youth & families for our own prayer & song experience. For child-care with Miss Purple, see Child Care Registration Form.
· Students & New Members: Special ticket prices available to students. New members can have the cost of their High Holy Days tickets applied to their 5779 (2018-2019) membership contribution.
· Ticketing Requirements: All attendees, including members, must have tickets. All reservations (tickets, RH luncheon, Tashlich dinner, child care registration, etc.), must be submitted by Tues., Sept. 4 at 5 pm. We will have your tickets for you at the Will Call Table when you arrive at Temple Isaiah.
· RH 1st Day Catered Luncheon: Vegetarian, vegan and gluten-free options available. Tickets are available for $25 per person at the door or in advance for $15 (members) and $20 (non-members).
· Annual Pushke Drive: This year, your tzedekah will go to help the homeless. Pushkes available at BCC.
· SOVA Food Drive: Grocery bags and giving lists available on Rosh Hashanah for drop off on Yom Kippur.