We're looking forward to seeing you all at our annual awards brunch and gala, now known as the BCC Vision Awards.  The Vision Awards help us raise nearly a quarter of BCC's annual budget, so buying a ticket, taking out a Tribute Journal ad and contributing something exciting to the Silent Auction makes a real difference in BCC's ability to thrive all year long.
Sponsorships, tickets & tribute ads all available at www.bcc-la.org/vision-awards-2018. General admission tickets are $195 or purchase a Bronze ticket for $250 and get a FREE new BCC t-shirt. If you are under age 30, we have special $75 Next Gen tickets. For families with kids, your Next Gen tickets include a FREE tour of the Noah's Ark exhibit.  Tickets are available through Monday, May 28.
The Tribute Journal closes Monday, May 14, so get your ad in now at www.bcc-la.org/vision-awards-2018 and send a special message of love and appreciation to our incredible Honorees.
Our aim for this year's Vision Awards is two-fold.
First, we want everyone to have a great time! To that end, we are returning to the beautiful banquet hall at the Skirball Cultural Center, which is located off the 405 freeway at 2701 N. Sepulveda Blvd., Los Angeles, CA 90049. There will be lots to do and see at the 2018 Vision Awards. We'll have a wide range of items at the Silent Auction – everything from restaurants and theatre tickets to vacation getaways, enticing jewelry and intriguing artwork, plus surprise raffle items. The food will be fabulous – plenty of lox for all, gluten free options and more! In addition to our fantastic honorees, we will also have amazing live entertainment from Cantor Juval and BCC songstress Tamara Kline, Cantorial Emerita Fran Chalin and the Zingen far Sholem Yiddish choir, plus LA's only queer klezmer band, Gay Gezunt, and BCC's favorite emcee Adam Kulbersh! And don't miss the chance to get our newly designed BCC T-shirts, which you can decorate at our Glitter and Go! Pride Bedazzling Bar. They make great gifts – for you and the ones you love. (More info on that below!)
Second, we want to celebrate four outstanding menschen, our 2018 Vision Award Honorees. The concept of Vision Awards is inspired by the parasha in which Moses sees the Burning Bush and makes his first connection with a power greater than himself – Yahweh, Adonai, Shechinah, God. We learn that the Burning Bush was there all along, but only Moses had the vision to see the divine possibility present in the everyday world. We are also inspired by Moses using that moment of spiritual transformation to launch his life on a journey to pursue justice and liberate those suffering from oppression.
Each of our honorees reflects these values – vision, inspiration, pursuit of justice, love of community.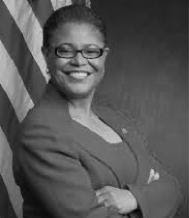 We are especially humbled to have US Congressmember Karen Bass as our Harriet Perl Tzedek Award Honoree. As the first African American female Speaker of the California State Assembly, she moved billions of dollars to start new infrastructure projects in California, create new jobs and send relief to those affected by the Great Recession. Since being elected to Congress in 2010, Karen Bass has become a leading light for justice and progress. She sits on two House Committees critical to maintaining our democracy at home and our standing abroad – the House Judiciary Committee and the House Foreign Affairs Committee. She is a leader of the Congressional Black Caucus, helps shape the policy platform of the Democratic Party, and is a nationally recognized champion of foster youth and their caregivers. The Congressmember is also special to us because the first same-sex wedding she ever officiated was in 2008 during the "Summer of Love" for our very own Rabbi Lisa Edwards and Tracy Moore. And, Karen Bass was a student of Harriet Perl's when she was young. In her free time, Karen Bass is leading a large-scale effort to increase voter registration throughout Southern California. It is we who are honored by this chance to hear from one of our nation's leading lights for truth, justice and the American way.  Read more about Congressmember Karen Bass in the next post below.
Our BCC member honorees are also incredible human beings. Check out the compelling interviews in the next post with Elizabeth Savage, who will receive our Rabbi Erwin and Agnes Herman Humanitarian Award, and with Maggie and Dave Parkhurst, who will receive our Presidents Award. Here are brief previews.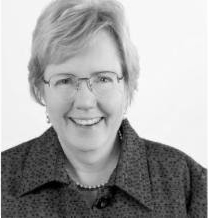 ELIZABETH SAVAGE HUMANITARIAN AWARD
Elizabeth Savage is a social justice activist whose work for the City of West Hollywood has ensured access to affordable housing and critical services for some of the community's most vulnerable members – older adults, lesbians and bisexual women, people living with HIV/AIDS and those struggling with poverty. She and her spouse Roxy Bickerstaff joined BCC in 1999.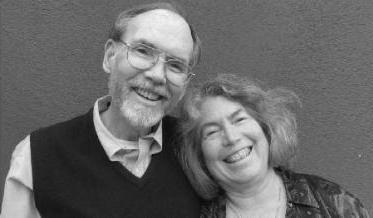 MAGGIE ANTON & DAVE PARKHURST PRESIDENTS AWARD
Chemist-turned-Talmud scholar, Maggie is the author of seven books, including the award-winning trilogy Rashi's Daughters; National Jewish Book Award finalist Rav Hisda's Daughter; and Fifty Shades of Talmud: What the First Rabbis Had to Say about You-Know-What (winner of the Ben Franklin Award for Religion) – all penned during eight terms on BCC's Board!
Dave, a retired patent attorney who specialized in science and technology, shares many talents with BCC, including chanting Torah, leading services, sounding shofar, composing biblically-based opera, playing in the Gay Gezunt klezmer band, and singing in both the BCC choir and in the Zingen far Sholem Yiddish choir. He and Maggie joined BCC in 2000.
SO GET YOUR TICKETS NOW at bcc-la.org/bcc-vision-awards-2018-tickets/. General admission $195. Bronze ticket $250 (includes FREE BCC t-shirt. Next Gen $75 (for kids includes Noah's Ark exhibit).
PLACE AN AD IN THE TRIBUTE JOURNAL. Send us your message and photos, and we'll make a beautiful quarter-page, half-page or full-page ad for you. The Tribute Journal closes MONDAY, MAY 14th, so get your tributes now at bcc-la.org/bcc-vision-awards-2018-tickets.
DONATE A SILENT AUCTION ITEM. Write to bccvisionawards@gmail.com.  We'll send you a Silent Auction contribution fund and instructions for how to drop off your items at BCC.
NEED HELP with your tickets or tribute journal ad?  Just call Elissa Barrett at (323) 931-7023 ext. 203 or email her at templedirector@bcc-la.org.
With your help, we can make this our most successful awards gala ever!
Purchase Tickets, Sponsorships, Tributes & Ads
BeDazzling T-shirts for Pride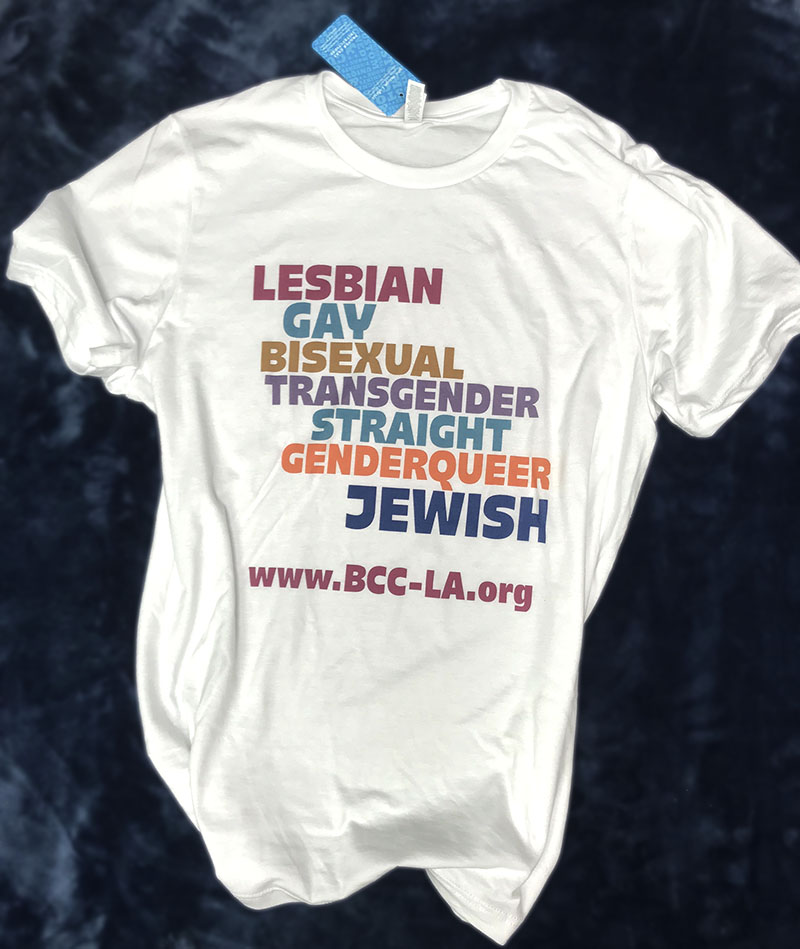 LA Pride '18 is just a week after the Vision Awards, so be dazzling for your friends when you wear your new BCC Jewish Pride T-Shirt at the Pride Parade on June 10th – and all year long. Represent your shul in style!
The new collectible Ts will officially debut at BCC's 2018 Vision Awards on June 3rd at the Skirball Cultural Center. (Tickets on sale now at www.bcc-la.org/vision-awards-2018.)
Buy your ticket at the Bronze level and above and you'll get your new BCC Pride T-Shirt for FREE! Everyone else will be able to purchase these amazing shirts for a nominal price at the event. Shirts are 100% cotton and come in "butch" crew and "femme" V-neck style options. But wait: There's more …. FASHION BLING!
Visit our complimentary "BeDazzling Bar" at the Vision Awards and get your Style Maven groove on. Decorate your T-Shirts with glitter and jewels – the better to shine at L.A. Pride!
Feeling especially crafty? Why not bedazzle a chic shirt for Harriet Perl Justice Award recipient Congressmember Karen Bass? Or for a beloved grandchild or fabulous friend? Bedazzled BCC T-shirts make brilliant gifts!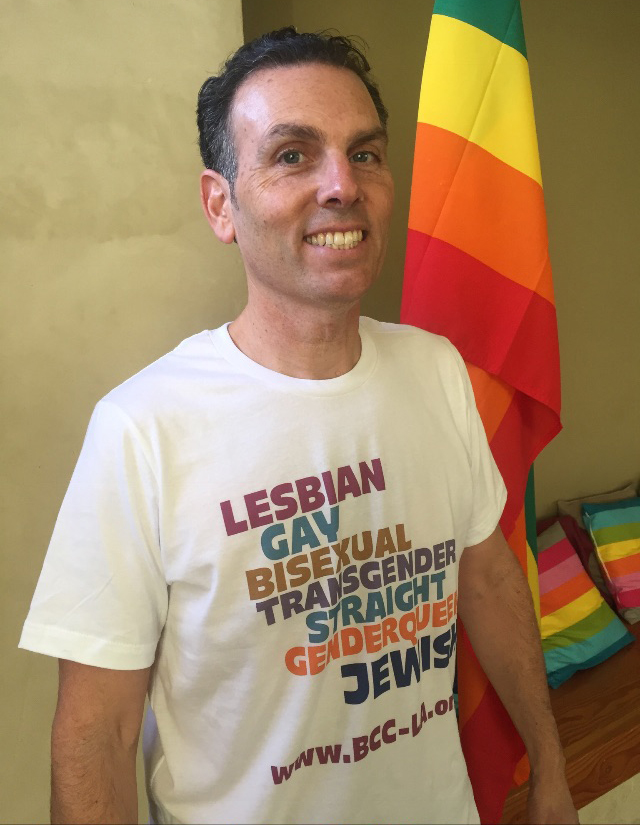 Take Pride with BCC
Friday June 8 at 8 pm Rabbi Heather Miller and Cantor Juval Porat lead us into BCC's "other High Holy Day" — Pride Shabbat! Join us for great music, inspiring words, and a lot of rainbows!
On Sunday June 10 show your true colors by wearing your bedazzled BCC Pride shirt to the Pride Parade festivities.
Get your pride on as you hear Cantor Juval's voice echo down Santa Monica Blvd at the annual Queer Interfaith Service/Parade kickoff sponsored by the LA Queer Interfaith Clergy Council. Meet Rabbi Heather and Cantor Juval at 9 am on the north side of Santa Monica Blvd at La Cienega.
From there you can meet up with BCCers, JQ Jews and friends from other Jewish organizations as we march together in this year's Pride Parade — which steps off at 10 am!
More Details coming your way as they unfold, but plan to join BCC and friends for a rousing Pride weekend June 8-10!