Art Work by BCC Member Davi Cheng on the cover of Asian Jewish Life magazine
"Burning Bush I," an art piece by Davi Cheng was published as the cover art of the Asian Jewish Life magazine, current issue, June 2015: issue 16.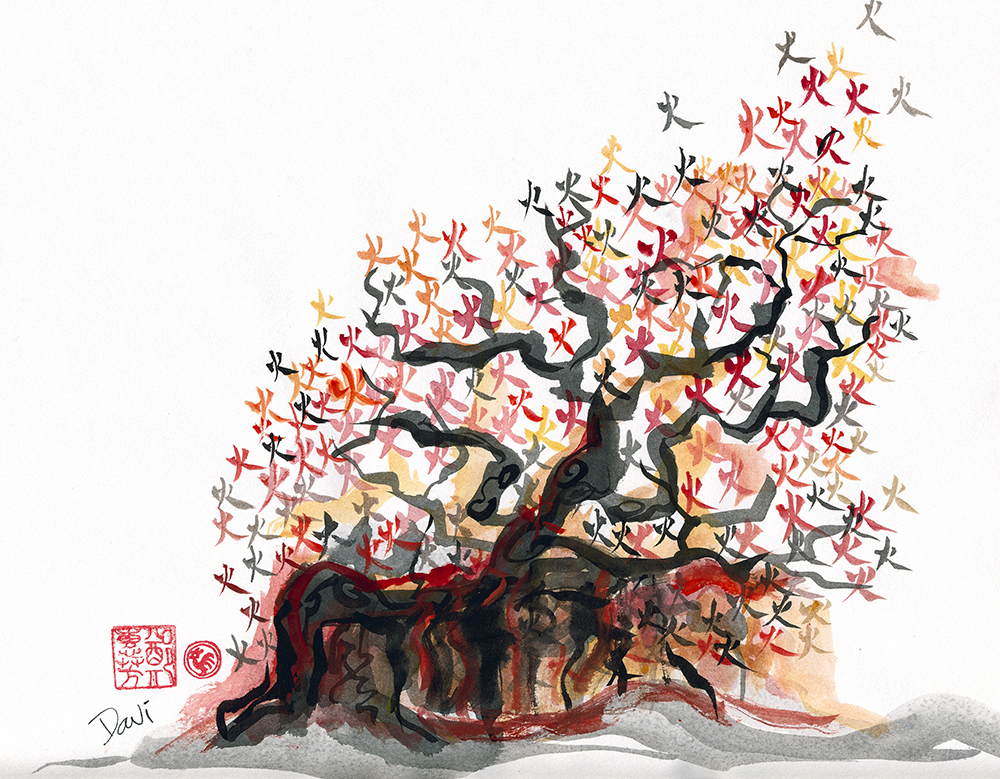 Burning Bush I is part of a series of "Torah Art" created based on verses in the Torah. "I love Torah study, and I've long had a fascination with calligraphy, especially Chinese characters, its strokes and meanings," says Davi. "Many of the Chinese characters derive from pictographs; to me they are such amazing images. Maybe because Passover was coming up, I thought about Moses and the burning bush, and thought it would be interesting to put the actual Chinese character for "fire" or "flame" (火) on some branches, and I used the colors of the flame instead of black ink. When I create art, the many pieces of me – the Jew, the Chinese, the lesbian – come together and become one."
Davi Yael-Cheng was born in Hong Kong and now lives in LA with her spouse of 36 year Bracha Yael-Cheng. She has served as the President of Beth Chayim Chadashim (BCC). An artist, musician and singer, she designed and co-created BCC's 12 stained-glass windows, ner tamid (eternal light) and ark doors.
Davi's other artwork includes Beth Chayim Chadashim's stained glass windows and the Women of the Book Midrash Project – Jewish Women Recording, Reflecting, Re-visioning. It is a visual, midrashic (interpretive) scroll based on the form and content of a traditional Torah scroll and created on 54 parchment panels (the number of Torah portions) by 54 Jewish women around the world.
In addition to being on the cover of "Asian Jewish Life," "Burning Bush I" was also posted on the website The Jewniverse in a story titled "Chinese Art with a Jewish Twist (Or, Jewish Art with a Chinse Twist)" (June 8, 2015 by Ilana Sichel) and on My Jewish Learning website's Blogs under "Seamlessly Chinese and Jewish" (June 1, 2015).
A special Giclée print of this piece, Burning Bush I, is offered for auction at the 2015 BCC Awards Brunch.