Greetings from Olga Grilli
BCC member Sylvia Sukop, now attending graduate school in St. Louis, recently visited with BCC friend Olga Grilli in New York.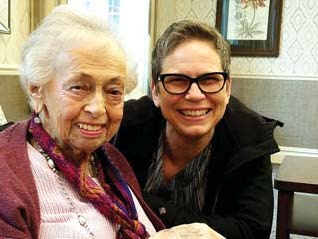 Those who were with BCC in 2005 will remember that Olga visited us when we restored a portion of our Holocaust survivor Torah and sponsored a reunion of survivor scrolls from around Southern California at Leo Baeck Temple. Olga grew up in the town of Chotebor, Czechoslovakia (now Czech Republic), the same town our scroll came from, and believes her grandfather read from it in their synagogue.
As an 11 year old, she was a passenger on the last Kindertransport of Czech children to England in 1939, just before the war began. BCC member Steve Sass conducted the research that located Olga, and Sylvia also established a personal connection with her. Olga is now 88 years old.