Los Angeleno Gay Jewish Stand-up Comedian Turns Slave Owner in 'Birth of a Nation'
Jason Stuart plays a slave owner in "The Birth of a Nation," based on Nat Turner's slave rebellion in 1831.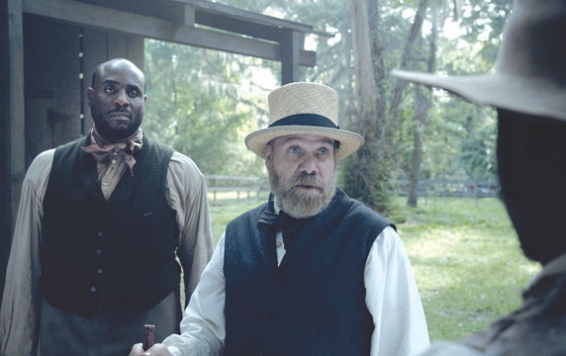 Actor Jason Stuart arrived for a recent interview at his favorite Hollywood coffeehouse, dressed in striped shorts and a T-shirt, and immediately embraced a reporter in a bear hug. He's a gay, Jewish, liberal comedian, and his stand-up comedy show, "I'm Only Gay on the Weekends," came about "because I'm just getting too old to be gay every day," he said, breezily.
Stuart is so affable and funny that his latest role may come as a surprise to his fans: He's playing a racist, straight, Christian plantation owner and sexual predator in Nate Parker's new film, "The Birth of a Nation." The drama tells the true story of the enslaved preacher Nat Turner (played by Parker), who, in 1831, leads a bloody slave rebellion against his white oppressors — including Stuart's character, Joseph Randall.
Randall is one of the first landowners to invite the preacher and his owner, Sam Turner (Armie Hammer), to his farm. Sam is making a profit selling Nat's preaching services to fellow plantation owners; the goal is for Nat to increase productivity among his fellow African-Americans by inspiring them with pro-slavery sections of the Bible.
Randall, who has cut his slaves' rations back to one meal a day to increase his profits, desperately needs such help; he can't understand why his slaves are so depressed. Later in the film, he asks Sam to provide him a reluctant female slave for his sexual pleasure. In the aftermath of the rape, which occurs off-camera, we see the woman collapse onscreen.
"This guy is completely dead inside, a product of his time and his generation," Stuart said. "I was repulsed and disgusted by him. He just wants to make some money, drink a bottle of wine at the end of every day, and have sex with his wife and other women."