Maggie Anton Tours LA Area
Author Maggie Anton will be speaking about "Talmud After Dark" at six venues in and around Los Angeles and the SF Valley starting tomorrow, January 18.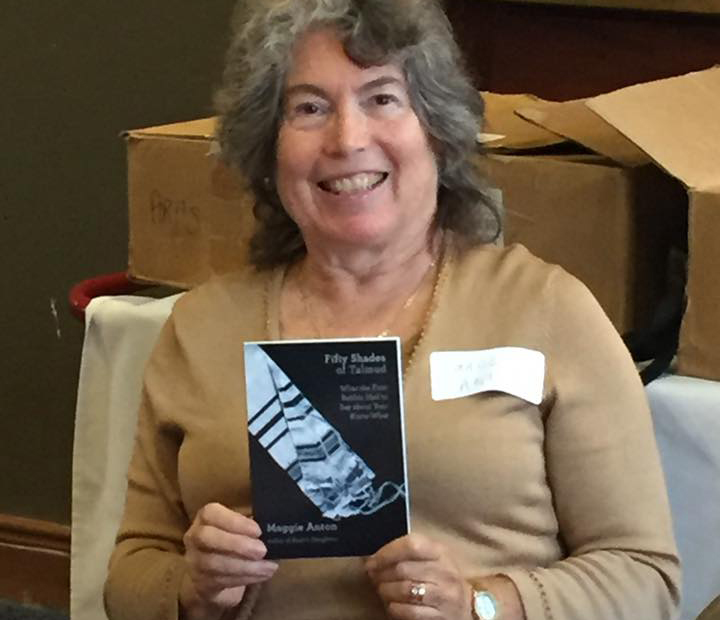 Some events are in the evening and some during the day, most are free but those serving food will cost you a donation. All will include book sales/signings of her latest book, "Fifty Shades of Talmud," out now.
Here are the details:
Jan 18 – 7:30 pm. Shomrei Torah Synagogue, 7353 Valley Circle Blvd, West Hills, CA 91304
Jan 21 – 11 am. Shabbat drash at Temple Emanuel Beverly Hills, 8844 Burton Way, Beverly Hills, CA 90211
Jan 21 – 7 pm. Lev Eisha winter retreat. Brandeis Bardin, 1101 Peppertree Ln, Brandeis, CA 93064
Jan 22 – 1 pm. Temple Beth Ami, 23023 Hilse Lane, Santa Clarita, CA 91321
Jan 23 – 7 pm. NaAmat Women Mitzvah chapter. Location tba at private home, San Fernando Valley, CA
Jan 28 – 3 pm. VBS Sisterhood retreat. Brandeis-Bardin, 1101 Peppertree Ln, Simi Valley, CA 93064
The new winter issue of Lilith Magazine is out, and it contains both an excellent article by Rabbi Benay Lappe, who inspires Anton, as well as a nice review of "Fifty Shades of Talmud."
"It is worth finding a place to peruse this slim volume in which Anton compiles fifty Talmudic discussions about every aspect of sexual relations," Ilana Kurshan writes in the review. "These discussions are interspersed with black-and-white cartoons featuring Adam and Eve and rabbis in togas, as well as pithy quotes about sex, many of them—like many of the statements in the Talmud—anonymous, and others attributed to luminaries ranging from Voltaire to Gandhi to Woody Allen … for those who would not otherwise open a volume of Talmud, Anton's book offers, perhaps, a titillating way in. 'Rabbis are men, too,' she asserts, laying bare many rabbinic views on sexuality that may seem surprisingly progressive to the uninitiated. She shows how the rabbis were encouraging of good sex, and very permissive when it came to what a married couple may do in bed."
Maggie says, that the most astonishingly progressive thing the Talmudic rabbis do for women's sexuality is, by exempting us from procreation, they therefore permit a woman to use contraceptives without having to ask her husband's permission or even inform him. "Thus our Sages give women control of their reproductive lives," Anton says. "Something we do not have in this country even today."