Rabbi Heather Miller
As the Days of Awe recede into the past, the night comes earlier. The days grow shorter. Darkness falls over the Northern Hemisphere in a significant way. It will soon be winter. And isn't it lovely that precisely at this time, our tradition encourages us to light sacred candles? We ritualize this by lighting the menorah each of the eight nights of Hanukkah.
Long ago, the rabbis argued over how we should observe this sacred week. The Babylonian Talmud, Shabbat 21b, tells us that Shammai thought we should light eight candles the first night and then remove one each night thereafter, while Hillel thought we should light one candle the first night and then add one light each night.
The majority opinion followed Hillel's recommendation and it was decided that our practice as Jews should always be to add light to the world, rather than to diminish it. And so each night of Hanukkah we increase our light by adding another candle to light. I have always thought this is such a beautiful way to view the world and our role in it. Like that saying, "The best is yet to come," we increase joy and hope in the world by increasing the light each successive night.
The word for light in Hebrew is "ohr." That is why our religious school program at BCC is called "Ohr Chayim" – – which literally means "the light of our lives." It's a clever name as children are often called the light of our lives.
This past September, I was named Director of Education overseeing our Ohr Chayim program and all of our children's learning. And I am proud to say that in just two short months, we have created activities and learning opportunities for our children of every age: our traditional-aged students each articulated how they would personally contribute to the greater community culture this year. Our post-b'nai mitzvah students have taken on leadership roles as master storytellers and guides in learning called "madrichim." And, on the other end of the spectrum, our youngest members of the congregation — those who are five years old and younger — have consistently gathered and celebrated countless milestones together all while singing and enjoying chewy challah together.
BCC parents are also engaged in new and exciting ways of learning, dreaming, and building community together.
With all of this, we hope to more intentionally integrate children into the life of the congregation. You will see more of our younger members of the congregation at many of our events, and you are invited and encouraged to consider attending our 10:00 to 10:30 am musical Shabbat services on those Saturdays when Ohr Chayim meets (normally the first, second, and fourth Saturdays during the school year). I am confident that you will find that their participation truly does increase the light in our lives.
For more on our plans for Hanukkah at BCC, see Cantor Porat's column.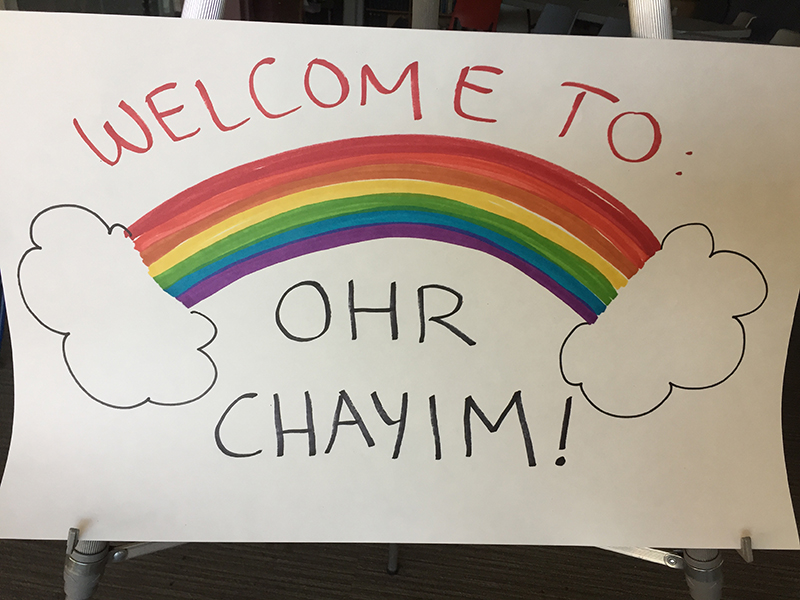 Rabbinic News from Rabbi Lisa Edwards:
The Jewish Women's Archives is partnering with some filmmakers, gathering oral herstories from women rabbis, and slowly posting excerpts on the JWA website under the title Women Rabbis' Collection. The second cohort of video clips has recently been posted, and Rabbi Lisa is included in that.  The interview was done shortly after we moved into our new building.  Here's the link to her section: https://jwa.org/rabbis/narrators/edwards-lisa
There are of course lots of other rabbis there that we know and love!
Our own Rabbi Lisa Edwards has contributed a chapter to a new book, A Life of Meaning: Embracing Reform Judaism's Sacred Path. This volume offers readers a thought-provoking collection of essays by rabbis, cantors, and other scholars who differ, sometimes passionately, over religious practice, experience, and belief. Its goal is to situate Judaism in a contemporary context, and it is uniquely suited for community discussion, as well as study groups. The book will be published by December 2017 and is available for pre-orders through the publisher, CCAR Press. For more information, see meaning.ccarpress.org