by Larry Nathenson
On Sunday, June 3, over 250 BCC members and friends gathered in an elegant ballroom at the Skirball Cultural Center for our annual awards gala. This year, we renamed this event the "Vision Awards" to reflect the qualities we celebrate in our honorees.
In the words of Rabbi Lisa Edwards: "Taking in what others pass by, envisioning the world as it can be, working against the odds with dedication and passion to make the world a better place – these are the qualities we celebrate with the BCC Vision Awards."
And our community was so moved by the example of this year's amazing honorees – Congressmember Karen Bass and BCC members Elizabeth Savage, Maggie Anton and Dave Parkhurst – that we raised over $150,000, exceeding our expectations for the event and nearly setting an all-time record.
The event began with a reception and fabulous silent auction with a wide variety of offerings – restaurant and theater certificates, vacation packages, personal services, and paintings and other works of art. We had new BCC t-shirts for sale and a "bedazzling bar" where we could embroider and enhance them for our Pride celebration the following week. There was also a raffle or "opportunity drawing" for a flat screen TV (won by Tamara Kline) and an Apple watch (won by Donna Quigley Groman). Congratulations to them and to all of the silent auction winners.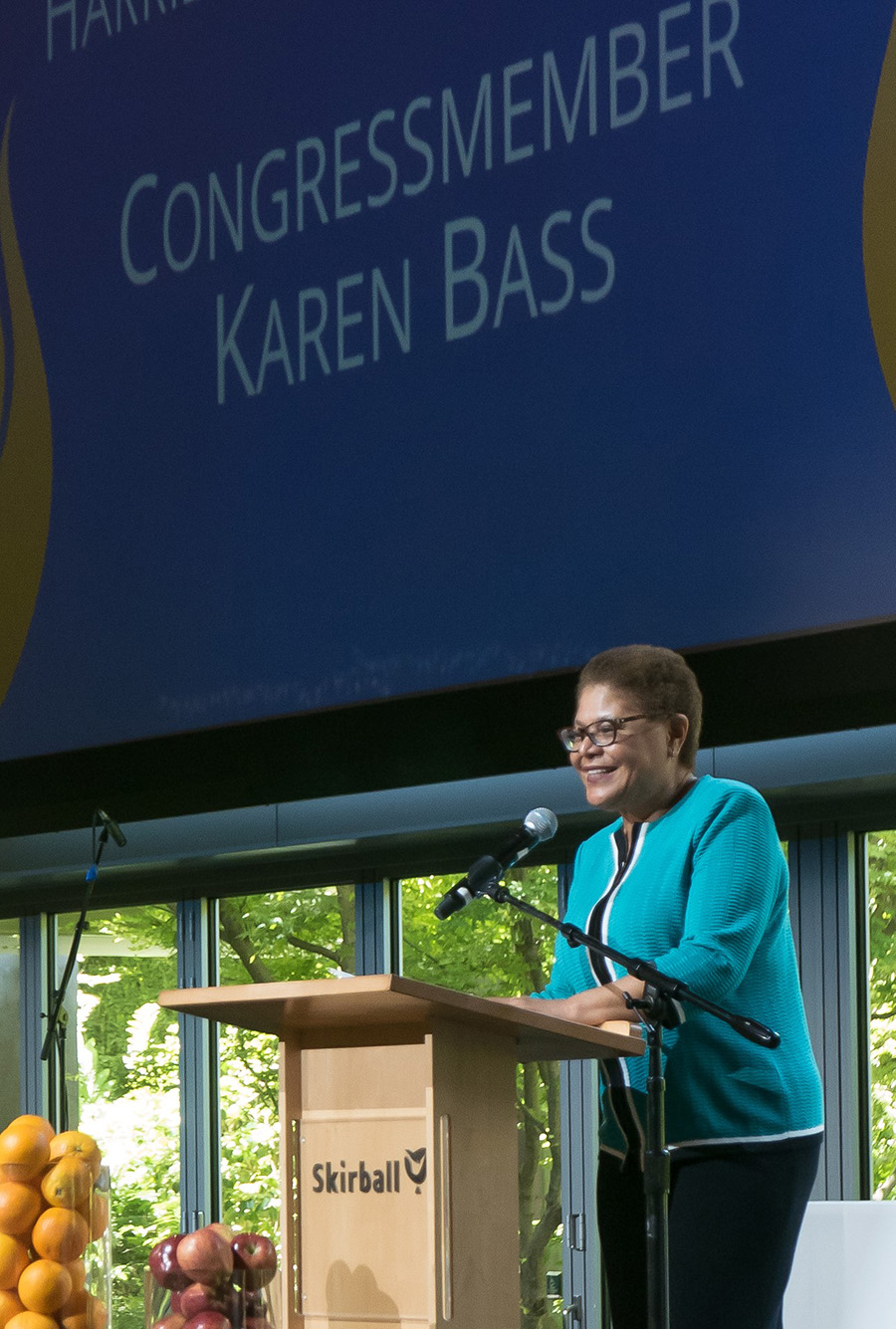 Congressmember Karen Bass at the podium (photo: Debrah LeMattre)
As we moved into the main ballroom and enjoyed our scrumptious buffet brunch, the awards ceremony began with the Harriet Perl Tzedek (Justice) Award, presented by Rabbi Lisa Edwards and Tracy Moore to Congressmember Karen Bass. Now in her fourth term, Congressmember Bass serves on the House Committee on Foreign Affairs, where she is ranking member on the Subcommittee on Africa, Global Health, Global Human Rights and International Organizations. She also serves on the Judiciary Committee, the Steering and Policy Committee of the Democratic Caucus, and as 2d Vice-Chair of the Congressional Black Caucus. Before her election to Congress, she served in the California Assembly, where she was the first African-American woman to serve as a legislative speaker in any state. And the civil wedding of Rabbi Lisa and Tracy in 2008 was the first wedding at which Congressmember Bass officiated, cementing her ties to our congregation that lies within her Congressional district and her then Assembly district.
The Harriet Perl Tzedek Award is named for a longtime BCC member who passed away in 2013 and was a beacon of feminist and labor union activism for many in our community. "Miss Perl" was also Congressmember Bass's English teacher at Hamilton High School, which made the award especially appropriate. In her acceptance speech, she recalled that although Miss Perl's class was entitled "English," she really taught critical thinking and instilled a sense of social conscience and awareness in her students. She recalled meeting Miss Perl years later and thanking her for the role she played in shaping young minds such as her own.
Following welcoming remarks by BCC President Richard Lesse and emcee Adam Kulbersh, the festivities continued with a performance by Cantor Juval Porat and BCC member Tamara Kline of "Or Zarua L'tzadik" ("light is sown for the righteous"). This passage from Psalm 97 was especially appropriate for our Harriet Perl Tzedek Award and its recipient, Congressmember Bass.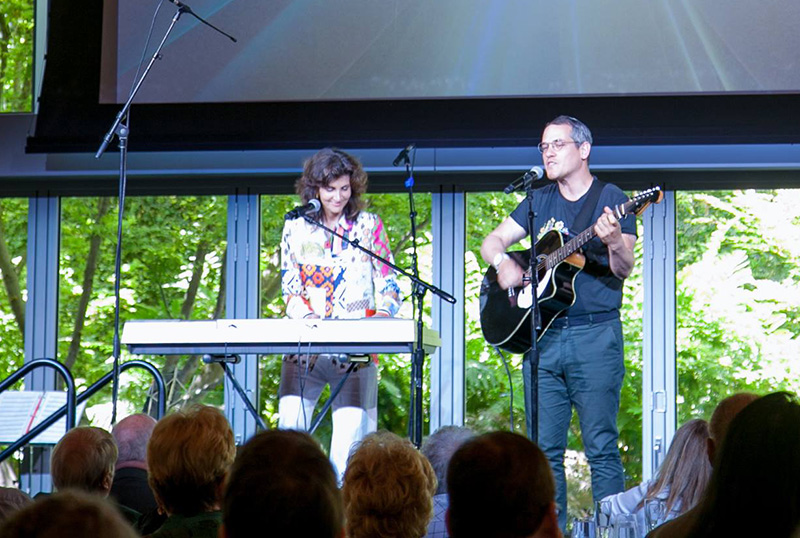 Tamara Kline and Cantor Juval Porat perform "Or Zarua L'tzadik" (photo: Debrah LeMattre)
The next award was the Rabbi Erwin and Agnes Herman Humanitarian Award, which recognizes individuals or organizations for outstanding activism in the quest for social justice and social service. The award is named for two pioneering supporters of BCC within the Reform Movement of Judaism in the 1970s, when the acceptance of LGBT Jews was still controversial. Agnes Herman herself received the award last year. This year's award was presented to BCC member Elizabeth Savage by her former West Hollywood colleague, Abbe Land.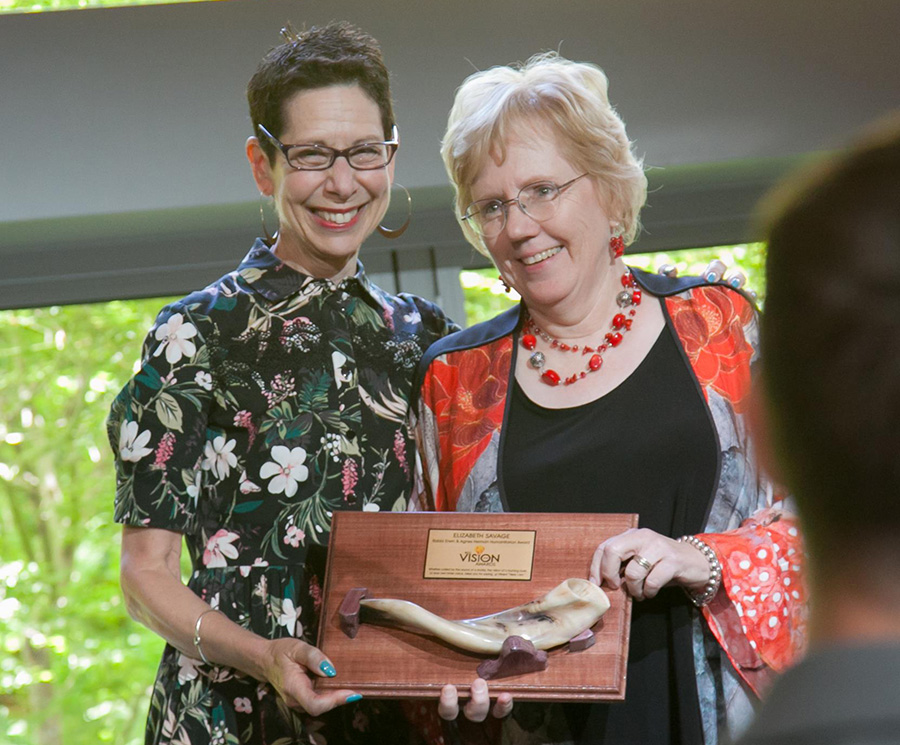 Abbe Land presents the Herman Humanitarian Award to Elizabeth Savage (photo: Debrah LeMattre)
Before her recent retirement, Elizabeth Savage served for 22 years in various capacities in the City of West Hollywood, working her way up from Financial Analyst to Director of the Department of Human Services and Rent Stabilization. She led the way in ensuring access to critical services for aging with dignity, protection of affordable housing, advancement of lesbian and bisexual women's health, and access to treatment for people living with HIV/AIDS. She is celebrated by the L.A. County Board of Supervisors for making West Hollywood "a better place to live for its most vulnerable residents." Together with her spouse Roxy Bickerstaff, Elizabeth has been a BCC member since 1999. You can read her acceptance speech in the next post below.
The Zingen far Sholem Yiddish Chorus, led by BCC cantorial emerita Fran Chalin, entertained us during our next interlude with several musical numbers, including "Sholem Lied" ("Songs of Peace") and the unofficial anthem of the Partisan resistance movement in the Warsaw Ghetto.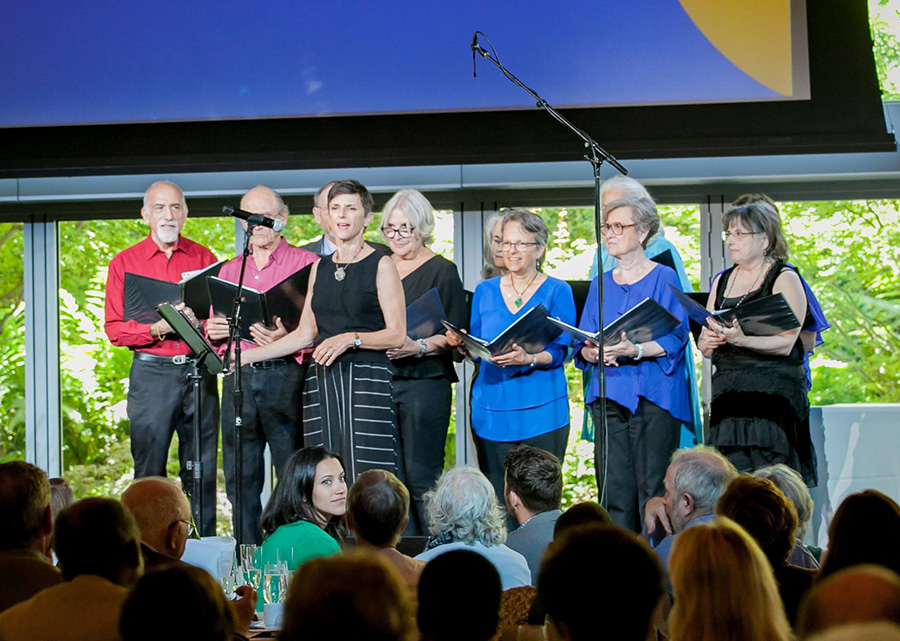 Fran Chalin and the Zingen far Sholem Yiddish Choir (photo: Debrah LeMattre)
Our last award, the Presidents Award, recognizes BCC members who have made exceptional contributions within our community. This year's award was presented by BCC member and former Treasurer Ray Eelsing to Dave and Maggie Anton Parkhurst, who have been active and generous supporters of our synagogue since 2000. Their acceptance speeches can be found in the next post below.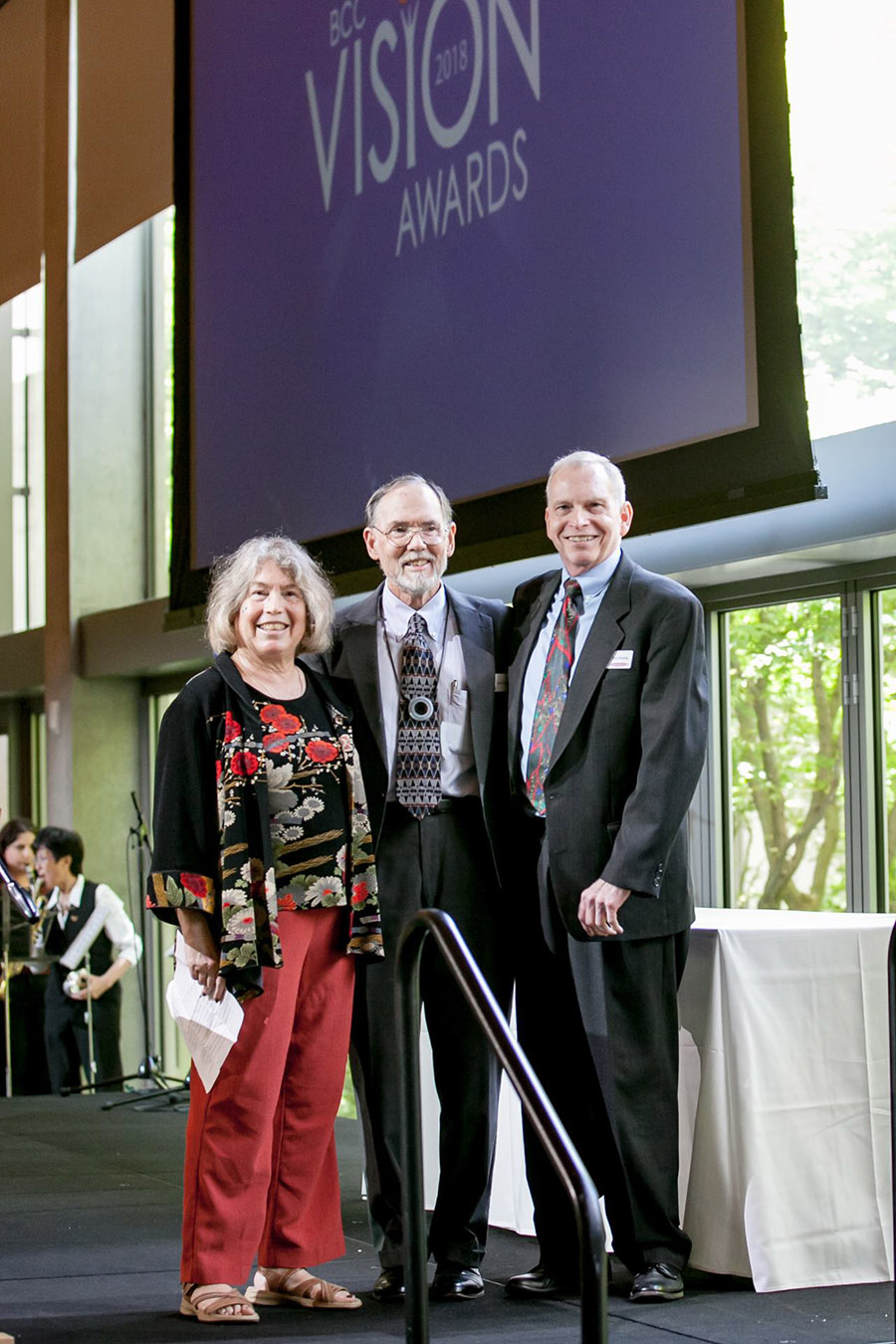 Maggie and Dave Parkhurst with Ray Eelsing (photo: Debrah LeMattre)
Maggie is a longtime BCC Board member who has enriched our community by sharing her love of Talmud study and other Jewish texts and bringing scholars in residence to our congregation. She is also an award-winning author of the Rashi's Daughters trilogy centering on the lives of Jewish women in medieval France, Rav Hisda's Daughter about women in Babylonia during Talmudic times, and most recently Fifty Shades of Talmud, winner of the Ben Franklin Award for Religion, about our sages' surprisingly progressive views on sexuality.
Dave is a graduate of the USC Gould School of Law and retired patent attorney who has found in BCC a place to explore and share his love of Jewish music in numerous ways – as a choir member, composer, lover of Yiddish singing, and chanter of Torah at many holiday celebrations as well as our monthly Shabbat morning minyan.
The Gay Gezunt Klezmer Band, which had its start at BCC, concluded the festivities with several songs, including the Yiddish classic "Bei Mir Bist Du Sheyn" and a wedding dance that got many of us out of our seats and dancing around the room!
Many thanks to all who helped make this event such a resounding success, including event co-chairs Elissa Barrett, Ray Eelsing, Ginger Jacobs, and Tracy Moore, all of the members of the Brunch Committee, the BCC clergy, staff, and numerous volunteers, and all of the sponsors and table captains who helped us fill the room. We couldn't have done it without all of you!