Elizabeth Savage Acceptance Speech
Thank you, Abbe, for that thoughtful and generous introduction. Thank you to Professor Jean Lipman-Blumen of the Drucker Management School who is here today. At a critical moment in the leadership classes, you helped me understand the various workplace cultures and how to cope with that. Thank you to my family and friends, and especially, to my spouse Roxanna Bickerstaff.
I have been a public servant, activist and community organizer for most of my life. Many of you know that I worked at the City of West Hollywood for 22 years. I have been privileged to help meet people's needs with the resources that the City provides. But I must say that the recent years have been the most demanding. In West Hollywood, I saw community members who live in a city that has the capacity to help them, receive services, and be gracious and appreciate the staff's hard work. Also, I saw that there were those community members who bashed those services in public, while in private they refused help. There have always been community members who intervened and interrupted these attacks. But many of the meetings became acrimonious, and some became unsafe. This prevalence of conflict matched the nasty local, state and federal election campaigns – campaigns that are tainted by misogyny, racism, and a disregard for truth. I watched the public meeting setting become so confrontational that, now, most board, commission, and community meetings require security guards – and it was not that way when I started. Misstatements are made about public servants. Distrust is the new epidemic. We are living in a more hostile world in which the public servant is required to keep calm and carry on with greater patience. There are several city and public servants here today. I salute you. We share this humanitarian honor.
I have been thinking about how much of today's public discourse is centered around anger, fear and hatred. In her book, The Opposite of Hate, Sally Kohn, an out-lesbian, former Fox News commentator and now a CNN reporter, says that she knows people both on the left and on the right who think that hate is a useful tool in civic engagement. Sally contacted people who were trolling her on social media, her "haters", to find out who they were. Beneath their blogs of vitriolic comments, she found that they were average folk – in many cases, there was no changing their minds. (From The Opposite of Hate: A Field Guide to Repairing Our Humanity, by Sally Kohn)
In contrast, many thought leaders have talked about rapprochement. They recommend that we reach out to each other and share a personal experience to find common ground. It is easy to agree that we should eliminate the use of hatred, anger and fear as a principal feature of communication. It is just not that simple.
In her newest book entitled "Fascism, A Warning," Madeline Albright, Secretary of State to President Clinton, says that our current political scene is reminiscent of the times of Mussolini and Hitler. The phrase "drain the swamp" came from Mussolini's campaign in Italy. There is a great risk that we could lose our democracy to fascism, with the current racist regime that attacks the press, the courts, and public servants.
The assault on the working poor with low wages and without a safety net is bringing us back to the 1930s with encampments, and 140 million people in this country are facing poverty. We must go further than activism, we must organize, organize, organize. And yes, we should always vote – and urge others to do so.
This attack on democracy is causing increased repression and hardship. You all know the details of this, every day.
What do we do? One way I have been able to sustain my work is because I have a home base at BCC that is rich with ruach, the spirit of a caring community.
Martin Buber, the 20th century Jewish philosopher wrote, "It is said of a certain Talmudic master that the paths of heaven were as bright to him as the streets of his native town. Hasidism inverts the order: it is a greater thing if the streets…are as bright to him as the paths of heaven. For it is here, where we stand, that we should try to make shine the light of the hidden divine life." (From Page 38 The Way of Man, by Martin Buber)
Last January, I reviewed my priorities. As I had been immersed in local government, now I saw that I needed to support national organizations that are working toward an impact, a social movement for change.
Recently, I signed up for the Poor People's Campaign: A National Call for Moral Revival at www.poorpeoplescampaign.org. It is a coalition of diverse groups, including the Reform Judaism's Religious Action Center. There are 800 congregations and over two million Reform Jews in the United States. These groups are joined together to engage in nonviolent civil disobedience across the nation to demand action for an end to systemic racism and oppressive poverty.
For us in each congregation of Reform Judaism, this type of work is an opportunity to help build a social movement. Joining statewide or national movements will magnify our efforts and propel our initiatives forward. (From page 21 Recharging Judaism: How Civic Engagement is Good for Synagogues, Jews and America, by Rabbi Judith Schindler and Judy Seldin-Cohen) To overcome today's threats to democracy, I believe that but broad coalitions – such as the Poor People's Campaign – are necessary and that we need to unite across separate interest groups. If you are aware of other similar national efforts, please let me know.
Pete Seeger composed a song using words from a 19th century Mining Union rulebook that encourage us:
"Step by step the longest march
Can be won / can be won
Many stones can form an arch
Singly none / singly none"
Thank you again for this incredible honor.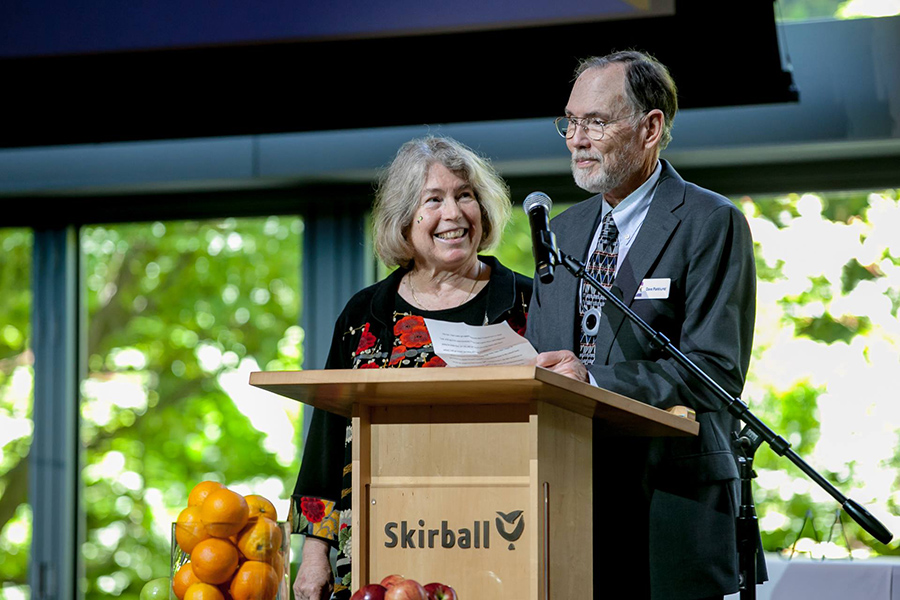 Dave Parkhurst Speech for BCC Presidents Award 2018
Thank you, Ray, for your kind introduction, and for your friendship.
And thank you all for joining us, and for the Presidents Award. This means a lot to me and Maggie, especially because, as Maggie tells me, it's the first time that BCC has given the award to "straight" members of the congregation.
Both of us have been able to participate at BCC, because BCC is welcoming, accepting and tolerant of us as a "straight" couple – although, after Maggie chanted part of the Megillah at Purim in Klingon, Barry Wendell insisted that we were definitely "queer."
We support BCC because we really appreciate what BCC does for the community, and because BCC has been so good to us.
There are so many ways I have been able to participate at BCC. For example, I go to BCC's monthly minyan, chant Torah, sing in the choir, blow the shofar during High Holy days, and occasionally help lead Friday night services.
Now, the first time I went to Friday night services at BCC, it very much reminded me of the Gay Men's Chorus: definitely a singing congregation.
Which is a big deal for me. In second or third grade, I had a chance to try out for the school choir, and I was so excited, standing in line for the tryouts, that when a teacher told me to calm down, I absolutely could not, so she sent me back to class.
After that, I didn't really get started singing until after I learned how to chant Torah, at the age of 40, when somebody told me I had a good voice, and suggested joining the temple choir; so I did, and, as some of you in the choir may have noticed, I still get excited, just being able to go to rehearsals.
When I mentioned to Davi Cheng during High Holy Days that I might be able to blow the shofar, because I used to play the baritone horn in the school band, she not only helped me find a shofar and learn how to do it, she also invited me to join the klezmer band, Gay Gezunt. The band often plays at convalescent homes, and it's really wonderful to see the residents singing along and moving to the music.
Of course, when I first joined the BCC choir, Fran Chalin taught us Yiddish songs. These songs have stories to tell of war and peace, unions, the Luddites and the Industrial Revolution, and other struggles and joy. And I have been able to continue learning and singing Yiddish songs with the Zingen far Sholem Yiddish chorus, thanks to Fran.
Besides all being related to music in some way, a common thread for me in these things is the importance of the memories, history, and stories behind them. Receiving the Presidents Award has helped me to be more mindful of just how meaningful these parts of my life are. So, thank you.
Maggie Anton Parkhurst Acceptance Speech
It amazes me to realize that this is our twentieth year at BCC, a congregation we never could have imagined joining back in the late 1990s, even if we had heard of it. But Summer 1997 to Spring 1998 was the year from hell for me and Dave, and after being traumatized at our two previous synagogues we were looking for someplace new.
In mid-1999, after getting recommendations from three straight friends, we attended services at BCC. We were wowed immediately. The warm welcome, the friendliness, not merely acceptance, and OMG, the singing – we couldn't wait to return the next week. High Holy Days, a month later, and we were ready to join.
Over the years, we found a shul where Dave could fulfill his love of music. Where I met Rabbis Benay Lappe and Aaron Katz, with whose help I was able to write the book I wanted to read, a Jewish historical novel set in medieval France. It was at BCC that I brought my Rashi's Daughters trilogy to fruition, and nobody was more astonished than me when over 100,000 other people wanted to read it too.
Rashi says that a teacher should always start with a joke, that students will learn better when they're laughing. So, with apologies to Adam, I'm going to conclude with a joke, one of my favorites from Fifty Shades of Talmud, copies of which are conveniently located on your table to take home.
"The Torah contains six admonishments to homosexuals and 362 admonishments to heterosexuals. That doesn't mean God doesn't love heterosexuals, just that they need more supervision."
I want to thank you all for being here to help us support Beth Chayim Chadashim, which is Hebrew for "House of New Life." It has truly been a house of new life for us.
(Article photos: Debrah LeMattre)