I am writing this, my last column for G'vanim "From the Rabbi's Study…," the day after yet another fatal shooting at a place of worship, this one at the Chabad synagogue in Poway, California. The list grows:

San Diego [Poway] [Jews]
Sri Lanka [Christians] 2 weeks ago
Christchurch [Muslims] 6 weeks ago
Pittsburgh [Jews] 6 months ago
Charleston [Christians] 2015
Near Milwaukee [Sikhs] 2012

And these of course are only the attacks on houses of worship and religious people. There have been so many more in other settings.
May we continue to be part of a solution (dissolution) to the growing trends of hatred and misunderstanding so rampant in the world today.

When I was in junior high or maybe high school already, I had a pin collection — political pins — some of politicians but most of slogans. My brother and a friend had some made that read "education not indoctrination." It prompted me to learn the word "indoctrination," even though I don't think I really understood what they meant by that slogan.
One my favorite pins at the time was one that seemed simpler to me: "Guns don't kill people, people kill people." It really spoke to the pacifist in me, but some time later I found out it was a slogan of the NRA, the National Rifle Association. OY!
I've been thinking about that pin lately, and the way slogans and memes and #hashtags and tweets and texts and emojis and protest signs and even Bible verses — these shorthand ways we try to communicate with one another — not only fall short, but often miscommunicate our intended meaning.
On the other hand, perhaps the short statements (though subject to misinterpretation) could be used as tools to get to the heart of what people have in common. Maybe they can be bridges instead of walls.
What if I could sit down, without guns, with an NRA member and talk about what the phrase meant to each of us, and why we liked it? Could new understanding of each other come from such a conversation? Could we possibly nurture some empathy between us instead of keeping our distance and assuming we are poles apart?
My friend and BCC co-clergy Cantor Juval Porat is providing us all with an opportunity to bolster our communication skills on the weekend of May 17, 18, and 19. Non-violent communication (NVC) is a method Juval very much appreciates and thinks we could benefit from. So, very Juval-like, he researched teachers of it and invited one he thinks would fit well for our congregation — Kathy Simon, who is coming down from the Bay Area to spend the weekend with us. Please look at the schedule and descriptions elsewhere in G'vanim and on the website and plan to join us for as many of the three workshops as possible. Learning (or polishing our skills of) empathy and communication could go a long way in continuing to share the values that brought us to BCC and help us into the future as we nurture this community and each other.
I am grateful to Juval for taking up this project based on conversations the Board of Directors had been having about how to be helpful in these challenging times, and his own observations and feelings of the world at this moment. Who could have known — though none of us is likely surprised — that yet more hate crimes against houses of worship and the people who populate them would make the timing of Juval's gift to us even more appropriate.
When I said this NVC teacher-in-residence weekend was very Juval-like, I meant the gentle way Juval moves forward on ideas he thinks would be good for BCC. This summer marks not only my retirement after 25 years as BCC's rabbi, but also Cantor Juval's 10th anniversary at BCC! I have been so blessed in my quarter century at BCC to work beside Cantorial Emerita Fran Chalin and Cantor Juval Porat — two people so gifted in sacred music and the nurturing of sacred relationships. Juval has grown into such an integral part of our congregation, and I feel a little like Dorothy at the end of the Wizard of Oz saying to the Scarecrow, "I think I'll miss you most of all."
Mazel tov to us, to BCC, and especially to you, Juval, on ten years together. You are a blessing.
A number of BCC people, including me, have joked over the years about the frequency with which I "tear up." And some of you have been noticing that some of my tears more recently (say, in my last year before becoming BCC's Rabbi Emerita) seem to go on longer than they used to, especially out of my left eye.
So here's the thing…while I am "feeling it" these last few months before my retirement, it's also a thing, this "weepy eye." By "a thing" I mean the eye doctor has an explanation for it (not a serious condition). But I have a different explanation — and it is a more serious condition. The tearing didn't actually start when my "last year countdown" started, though each emotional "moment" these days does seem to set them flowing. It started, really and truly, the day of the most recent presidential election (November 9, 2016), and nearly every day since. My left eye, the one on the side of my body where my heart is; the left eye – the way I lean politically; my left eye — whose vision is still quite good — it just keeps weeping.
I've come to appreciate my weepy eye. It causes me to pause sometimes in my day-to-day and take note of what's going on around me in a different way. It makes me more empathetic (or at least looking like I'm more empathetic). It serves as a reminder to me to keep an eye (even a blurry eye) on what's happening around me and inside me (what got those tears flowing in the first place).

There is a passage in the Talmud that I come back to often. I've spoken about it before. The brief mention of the claimants' stone (evan toan) in Jerusalem when the Temple was still standing describes a place where "anyone who lost an item would be directed there and anyone who found a lost item would be directed there. This finder would stand and proclaim his find and that owner would stand and provide its distinguishing marks and take the item." [BT Baba Metzia 28b]
It seems so civilized, doesn't it? I think of BCC as this kind of lost and found. People looking for something they've lost (or have yet to find) come to BCC where other people help them look, offering up this treasure or that. Does this one belong to you? Or this?
Torah? Community? Learning? Judaism? Music? Song? Helping ? Building? Sharing? Laughing? Yourself? Your soulmate? A place for children to grow?
What are you looking for? What have you lost? Or not yet found? Look here.
The end of the short passage in Baba Metzia references an even shorter mention in Ta'anit 19a, when Honi the Circlemaker prays for rain on behalf of the community and so much fell in Jerusalem that the people are afraid and ask him to pray for the rain to stop. "Go and see if the claimant's stone has been obscured [by the rising water]," says Honi, implying that only then would he ask God to stop the rain. Even in the city where the Temple stands, for Honi it is the stone of losses, the claimant's stone that becomes his focus.
These days as I wend my way into retirement and prepare to shift my title and my role to Rabbi Emerita, I find myself thinking of all the people through these past 25 years and before at BCC who tended our stone of losses and the treasures to be found there, and tended too the people who came to look for those treasures. Perhaps the water threatening to obscure my view of BCC lately comes from my weepy eye, the tears I'm shedding for the losses I feel. And the tears I shed in gratitude for all I've found here and for the people who help me find so much.

Shalom,

Rabbi Lisa
Editor's Note: The Vision Awards at BCC on June 2 is not the only honor Rabbi Lisa has received or will receive as she winds down her quarter century as BCC's spiritual leader.

Rabbi Lisa Honored as "Woman of the Year" in California Assembly

On March 4, 2019, Rabbi Lisa Edwards received an award as "Woman of the Year" for California Assembly District 54, presented by Assemblymember Sydney Kamlager-Dove. This annual award, established in 1987, allows each member of the State Senate and Assembly to honor a woman during Women's History Month for outstanding service to the local community. The official announcement cited Rabbi Lisa's work in the Los Angeles community in support of LGBTQ rights as well as her publications and scholarship, her activism, and her leadership in the Jewish community. It also specifically mentioned her organizational role in the vigil at the Federal Building in Westwood for the 11 murders at Tree of Life synagogue in Pittsburgh last October.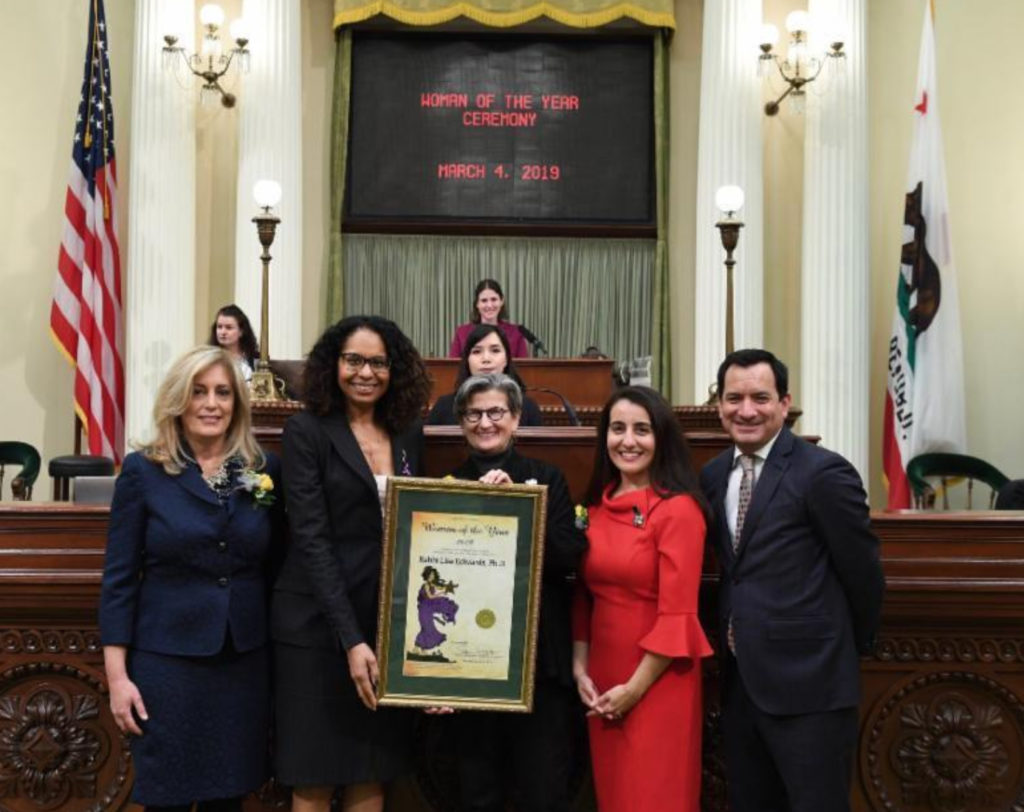 Rabbi Lisa Nominated for 2019 Rainbow Key Award
Rabbi Lisa has been nominated for the City of West Hollywood's 2019 Rainbow Key Award. The award recognizes people who have made outstanding contributions to West Hollywood's lesbian and gay community.
Since 1993, the City has presented Rainbow Key Awards to individuals and groups that have gone above and beyond in their service to the LGBT community. Contributions have come in many forms, including the arts, community service, humanitarian action, sports, medicine, armed services, leadership potential, benefit to the global gay and lesbian community, and more.
Nominations are made to West Hollywood's Lesbian and Gay Advisory Board ("LGAB"), which is made up of 10 voting members (5 women and 5 men) appointed by individual City Council members. The LGAB addresses matters relating to the lesbian and gay community such as education, empowerment, equal rights, hate crimes prevention and domestic partner rights, and recommends to the City Council the adoption of programs, policies or ordinances that benefit LGBT residents and visitors. The LGAB has recommended to the City Council that Rabbi Lisa receive the Rainbow Key. If confirmed by the Council at its May meeting, Rabbi Lisa will receive the award at a ceremony on Wednesday, June 12.