Yanir Dekel, Web Development and Digital Marketing Consultant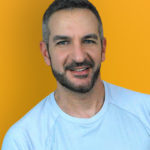 If there's one person who is benefitting from the Trump Presidency, it's Twitter's founder! President Trump's Twitter rants definitely keep this social media format very relevant. In this article I'll try to explain the uniqueness of Twitter and how you can turn your account into a news-in-brief page.
What is Twitter good for, anyway?
There are two major advantages to Twitter. First and foremost, the large majority of news outlets use Twitter to post headlines. You can browse through the headlines of three or four or a hundred news outlets at the same time and just click on the link to the article that you're interested in, instead of going to each news website separately.
Another major benefit is that you can create a direct connection with someone. Tagging the person in a tweet (see below for how to do it) can get a message directly to that person's attention. A lot of business and personal connections can open by tweeting with a specific person, organization, or business.
Last but not least, it's the fastest news outlet, because everyone can "report" about anything. For example, if there's an annoying helicopter above our neighborhood on a Saturday night, threatening to wake up my kids and ruin my night, the first thing I do is search "West Hollywood" on Twitter and immediately learn from other people what this is about and when it will go away. Believe it or not, it's very helpful, and 99% accurate. Most of the time.
Step 1: Twitter 101.
Twitter is an online social networking tool in which users post up to 280 character updates called "tweets." You can post on Twitter regular text and links.
There are three types of link on Twitter:
Link to an article: Regular link that directs to a page of an article somewhere on the Internet
Link to a subject: Using the famous 'hashtag,' you can add your tweet into a category of tweets under a specific subject, for example: if you click on #Jewish in any tweet, you'll get to a page with all the tweets that include the hashtag "#Jewish"
Link to a person: Using the character "@" you tag a person and create an automated link to the person's page. For example, if you want to tag BCC you type @BCC1972. If you wish to tag me you type @yanirdekel, and so forth. You can see the "@username" of every person on his page below the name.
Step 2: Create your news feed.
One important rule here: First, and unlike Facebook, Twitter is public by default. So if you do tweet with friends, it's all out in the open. That's not a bad thing, it just means that you have to be aware of what you're sharing and how personal it is. In addition to your friends, you can interact with your favorite journalists, athletes, artists, or political figures, all at the same space.
You create your feed by using the "follow" button located on the right on each profile ("following" is essentially what "friending" is on other social media sites). Say for example, you go to Beth Chayim Chadashim's Twitter page, and click on the "follow" button. The next time you open Twitter you'll see all of BCC's tweets mixed in to your "feed." If you next go to CNN's page and click "follow," the next time you open your feed you'll see a combination of CNN and BCC tweets, arranged by the time the tweets were posted, newest first. New tweets appear at the top, pushing the older ones down. The further down you scroll, the older the tweets are.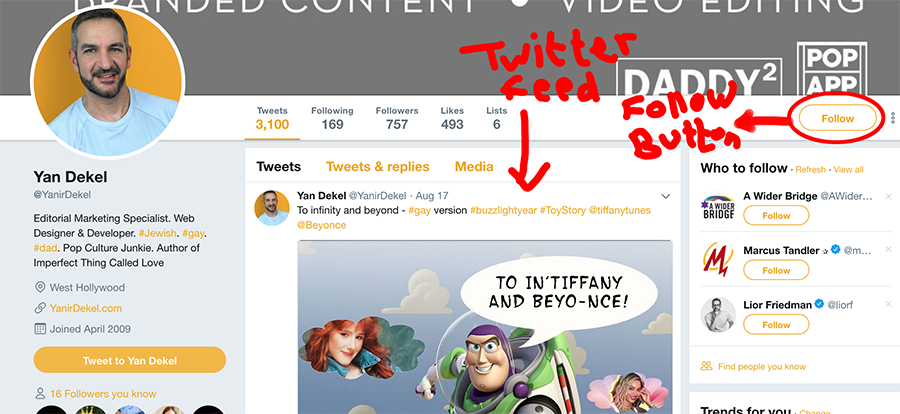 That's the whole deal. Try it and, if you have any questions, please do not hesitate to ask me. You can write me directly at yan@yanirdekel.com. I'll be more than happy to share with you more advanced Twitter tips and tricks!
#SeeYou @BCC1972 !
@YanirDekel