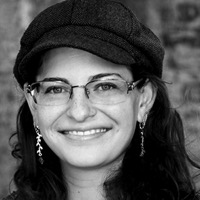 All families with children ages 0-18 – whether formally enrolled in BCC's youth programs or not – are invited to join the Ohr Chayim Religious School, Baby Kibbutz, and Teen Track @BCC for a legendary end-of-year celebration, Pride/ShavuotPalooza! There will be games, crafts, and other fun activities for families with children of all ages – bring the whole family, invite your friends, and help us wrap up the year in style!
Pride/ShavuotPalooza will take place on Saturday, June 8, 2019, 10am-12:30pm. Baby Kibbutz activities for our friends in the 0-4 age range will start at 11:15am – our littlest friends and their grown-ups are welcome to either join us for the whole day, or to arrive later so everyone still has energy for our rousing Closing Drum Circle at 12:15!
Contact Rae Antonoff, BCC's Director of Education, at rae@bcc-la.org for more information about Pride/ShavuotPalooza or any of BCC's youth and educational programming such as Ohr Chayim Religious School and Teen Track @BCC.
Paper Arts Exploration with Roxy Bickerstaff
Sunday July 14, 2019 from 1:00 pm to 4:00 pm, at BCC
Roxy Bickerstaff, BCC member, will guide you in this paper arts exploration of paper dolls. Create your own articulated paper doll using a "blank" template. Make a gift for yourself or someone else. Have fun, relax, and share your creativity. No pressure – no experience needed.
Bring your small and medium scissors – please label with your name. Wear clothing that you can get glue on. Materials will be provided. Class size is up to 20 people. For age 18+
Please RSVP to RoxannaBickerstaff at gmail.com
What others are saying about this experience:
"Hi Roxy,
Just a quick note to say how much we appreciated you inviting us to your "paper doll" party. It was a memorable day with great food, new friends, and much learning. Check out the evidence below.
We are both thrilled with our projects. This week we went out and bought a frame, and plan to mount the 'masterpieces' behind glass, as one. Thank you, again."
Victor and Hector

Victor's Mermaid (Merman) … not Ethel
Hector's Angel

BCC Film Club Screens "Love, Simon"
Saturday, May 4, 2019 at 6:00 pm
In this moving coming-of-age story, Simon is a closeted teen who falls for an anonymous online pen pal from his high school who is also gay. When a blackmailer obtains his candid emails, Simon must reveal his sexuality to his family and friends.
A discussion will follow the screening of the film.
Free admission and all-you-can eat popcorn will be provided. Feel free to bring a snack to share.
BCC Books and Bagels
Larry Nathenson
BCC's Book Group (Books and Bagels) has been meeting continuously since January 1995. The group meets monthly in members' homes for a bagel brunch and discussion of a book selected by the group. We read a variety of books: fiction and non-fiction, American and Israeli, historical and contemporary. The only requirement is some Jewish content (LGBT content is a plus, but not required). Our next two meetings are as follows (we will not meet in June due to all the celebrations for Rabbi Lisa and Tracy).
Sunday, May 26, 10:00 am
An Odyssey: A Father, a Son, and an Epic, by Daniel Mendelsohn
A memoir by a gay Jewish professor who teaches a course on Homer's Odyssey, which his father decides to audit. Afterwards they take a trip to Greece to visit sites of the original Odyssey and reflect on their relationship.
Sunday, July 14, 10:00 am
After Long Silence, by Helen Fremont
This is a memoir by a woman raised Catholic after World War II who discovers that her parents were Holocaust survivors who invented a new life for themselves after the war. There is also an LGBT angle.
The group is open to BCC members and non-members, and you are welcome to join us for a particular book that may interest you. RSVP is required for location and to ensure enough food. For more information, contact Larry Nathenson at Larrynath at aol.com.
Need a Morale Boost? Try BCC'sLife Transitions Support Group
If you could use some help dealing with the stress of relationships, careers, economics, social life, family life, health or bereavement, you might want to give the BCC Life Transitions Group a try. The goal of the BCC Life Transitions Group is to enhance participants' spiritual and emotional growth.
Participants have the opportunity to share their experiences, give and receive mutual support, and exchange coping skills with one another in a confidential atmosphere. Everyone is welcome – members and non-members alike. The group meets twice a month on the first and third Wednesdays from 7:00 – 9:00 pm.
This support group is facilitated by Shirley Hirschberg, Social Worker. Shirley is also available for individual sessions. For more information, please call the BCC office at (323) 931-7023, ext. 205.