Sunday morning, June 23 at Laemmle Music Hall
Stephen Sass
Please join the BCC community for a special private sing-along screening of "Yentl"—the romantic musical comedic drama that inspired Rabbi Lisa to enter rabbinical school!
Costume Parade – Add to the fun by dressing up as your favorite character from the film. Prizes will be awarded!
Sunday morning, June 23, 2019, time to be announced
Laemmle Music Hall – 9036 Wilshire Boulevard, Beverly Hills
(just east of Doheny Drive – free street parking)
$18 per person contribution to BCC Tzedakah Fund
Includes continental breakfast and special introduction by Rabbi Lisa on the intersection of Jewish and LGBTQ cinema.
Limited seating available – tickets may be purchased on the BCC website by clicking here or by calling the BCC office, (323) 931-7023.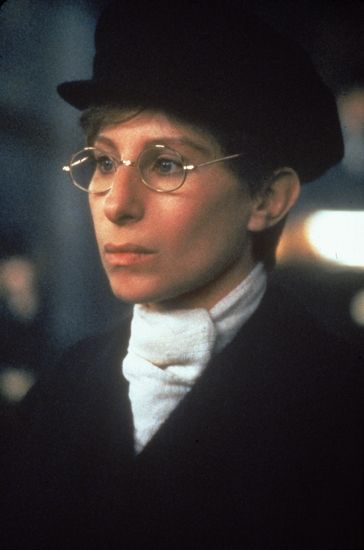 Directed, co written and starring Barbra Streisand, "Yentl" (1983) was adapted from Isaac Bashevis Singer's story about a girl (Streisand) who defies tradition while debating Jewish law and theology with her beloved scholar-father. After her father's death, Yentl disguises herself as a young man so she can continue her studies in yeshiva. Her deception involves her study partner (Mandy Patinkin) and his fiancée (Amy Irving). Featuring an Oscar-winning score by MIchel Legrand, Marilyn and Alan Bergman.
This special screening is made possible through the gracious cooperation of Laemmle Theatres and is presented in honor of Rabbi Lisa and Tracy with much love from Steve Hochstadt and Steve Sass.
And the Celebration Continues:
Join us the following week for a full weekend of community gatherings as Rabbi Lisa prepares to become Rabbi Emerita.
Friday, June 21: Special Shabbat service celebrating Lezbtzn Tracy
Friday, June 28: Rabbi Lisa's last service as Senior Rabbi — Ruach Chayim with Cantor Juval Porat.
Saturday, June 29: Special Shabbat morning "Rabbi's Tisch" brunch and learning — Rabbi Laurence Edwards, Rabbi Lisa's brother, will be lead teacher for a late morning/early afternoon Shabbat of music and learning with the Rabbis Edwards, Cantor Juval and friends!
Sunday, June 30: An afternoon picnic for the BCC community and friends in honor of Rabbi Lisa and Lezbtzn Tracy at the Hancock Park home of Dean Hansell and Eric Kugler. Save the date, and watch the weekly announcements for further details.
"Nostalgic look backs":
Over the last couple of months, and continuing to the end of June, our Friday evening Shabbat services have included a series of "nostalgic look backs" (as Rabbi Lisa has called them) in which BCC members and friends reminisce about various events during Rabbi Lisa's 25 year tenure with BCC (and a few even before that).
We hope to collect all or most of these brief talks once they have concluded and make them accessible on the BCC website, and to present brief summaries and excerpts in the July/August issue of this newsletter.
The following talks have already occurred:
March 15: Ray Eelsing spoke about the L'chayim Legacy Circle of BCC members who pledge to support BCC in their estate planning, and which also provides estate planning and other financial guidance to our community.
March 22: Pam Postrel and Mindy Blum looked back on the "summer of love" in 2008 when marriage equality was briefly established in California by the California Supreme Court until Proposition 8 took it away (it was restored five years later by the U.S. Supreme Court). Rabbi Lisa married more than 40 BCC couples during those four months, and also married her beloved Tracy for the second time. Pam and Mindy also presented a video with clips from many of those weddings.

March 29: Cantorial Emerita Fran Chalin spoke about her 23 years on the bimah with Rabbi Lisa as BCC's co-clergy and the many other ways in which they collaborated to serve our community.

April 5: Bill Resnick spoke about his encounters with BCC as a young and still closeted gay boy in Culver City (when BCC's High Holiday services were at his family's shul, Temple Akiba), and his later decision to give the lead gift for BCC's capital campaign to purchase and renovate our new building.
April 12: Davi Cheng reminisced about the design and building of our stained glass windows, originally placed on an outside wall at 6000 Pico and now located between the sanctuary and foyer in our new building. Davi was the lead designer and one of four artists who built the windows over a seven-year period.
April 26: Brett Trueman talked about the process of starting our capital campaign for a new building, which he spearheaded after becoming BCC's president in 2005.
These additional talks are scheduled at G'vanim press time:
May 3: BCC member Bracha Yael will speak on the telephone minyan and its evolution into BCC Live.

May 10: BCC member and former President Lauren Schlau will speak about hiring Rabbi Lisa in 1994, as Lauren was on the Rabbinical Search Committee at that time.

May 17: BCC member Steven Hochstadt will speak about BCC's Tzedakah Council on which Steve has played such a major and foundational role.

May 24: BCC member Ira Dankberg will speak about building our 6090 Pico Blvd. spiritual home on which Ira took the architectural lead.

May 31: BCC member Mark Katz will speak on the topic of BCC's Jewish response to the AIDS crisis through the formation in 1986 of Nechama (Hebrew for "Comfort"), which eventually grew into Project Chicken Soup.

June 14: Former BCC member Mark Hunter will speak about the purchase in 1977 of BCC's first building at 6000 Pico Blvd. Mark was BCC's real estate agent at the time.

June 28: BCC member Stephen Sass will speak about our Shoah Survivor Torah scroll and its connection with former honorary member, Olga Grilli, z''l.